The True Source of Inner Power
Daily Reflection / Produced by The High Calling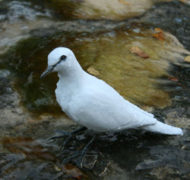 For this reason I kneel before the Father, from whom every family in heaven and on earth derives its name. I pray that out of his glorious riches he may strengthen you with power through his Spirit in your inner being.
Ephesians 3:16
"If you want to be successful, you need to discover your inner power. You need to find the strength that is hidden within you. You need to believe in yourself. If you have enough faith in yourself, you will be successful in whatever you do." Platitudes such as these are a dime a dozen these days. You can find them in bestselling books, on television talk shows, in greeting cards, and all over the Internet. You hear truisms like this in graduation speeches, infomercials, and even in sermons. But are they true? Can you find the power you need inside of yourself? Is this where it comes from?

The biblical answer is "No ... and yes!" If we simply look inside of ourselves for power, truth, and salvation, we won't find it. What we'll find is a vacuum that can be filled only by God. So, if you're looking for inner power apart from God, you won't find what you need.

But, if after you peer inside, you realize how empty you are, if you turn to God in faith, not only do you receive salvation by grace, but also the very Spirit of God comes to dwell within you. Thus, if you have a relationship with the living God through Jesus Christ, then God's own power does indeed dwell within you.

This explains Paul's prayer in Ephesians 3:16: "I pray that out of his glorious riches [God] may strengthen you with power through his Spirit in your inner being." There will be power inside of you, power to be discovered and used, but not power that emerges from your own inner resources. Rather, the true source of inner power is the Spirit of God.

When we draw strength from the indwelling Spirit, we find peace and confidence that exceed our own capabilities. We find compassion to love those who are otherwise unlovable. We find strength to serve, love, and sacrifice in ways that imitate Jesus himself. The Spirit of God empowers us to minister in the church and the world—wherever we are—in amazing ways, so that God's purposes might be advanced through us.

QUESTIONS FOR FURTHER REFLECTION: Where do you need God's power today? What challenges do you face that exceed your capabilities? What opportunities might you pursue if you believed that the Spirit of God truly lived within you?
PRAYER: Gracious God, my heart echoes Paul's prayer in Ephesians 3:16. I ask that out of your glorious riches, you would strengthen me with power through your Spirit in my inner being. Empower me, Lord, to say "No" to sin and "Yes" to you. Strengthen me to serve others faithfully and sacrificially. Give me wisdom to understand and apply your Word. Grant me faith to believe great things of you.

I also pray today for all who receive this reflection that you might strengthen each one of them with power through your Spirit in their inner being, so that they might fulfill your purposes and live for the praise of your glory. Amen.

Image courtesy of Laity Lodge, one of our sister programs in the Foundations for Laity Renewal.