Ultimate Satisfaction
Daily Reflection / Produced by The High Calling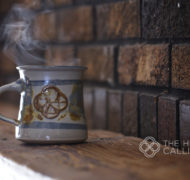 Because I am righteous, I will see you. When I awake, I will see you face to face and be satisfied.
Psalm 17:15
Psalm 17 overflows with David's prayers of asking: hear my plea, listen to my cry, pay attention to my prayer, declare me innocent, show me your unfailing love, guard me, protect me, rescue me, etc. But the last verse of the psalm includes a unexpected profession: "When I awake, I will see you face to face and be satisfied." We might think that David would not be satisfied until all of his requests had been fulfilled by God. But, in fact, as he comes to the end of his prayer, David realizes that ultimate satisfaction comes, not in having God's answers to your prayers, but in God himself.

One of the greatest privileges in life is being able to offer our prayers to God. Scripture invites us to ask for what we need without hesitation. Yet, though we often begin our prayers by asking God to do things for us, in the very process of praying, we discover the joy of God's presence. Sure, we still want him to answer our prayers. But, even more, we yearn for God, realizing that nothing is better than being with him.

Prayer, therefore, is not primarily a means of getting God to do what we want him to do. Rather, prayer is a channel of relationship. Through prayer, we encounter the living God, and he satisfies us in a way nothing else in life can satisfy.

QUESTIONS FOR REFLECTION: Have you ever had a "Psalm 17" experience, where you began praying urgently for what you wanted God to do for you, but, along the way, discovered the wonder of his presence? What helps to open your heart to the Lord as you pray? When have you known the deep satisfaction of being with the Lord?
PRAYER: Dear Lord, how many times have I done just like David! I come to you with my needs, my concerns, my desires. Yet as I pour out my heart to you, I experience something I hadn't bargained for . . . the peace and joy of your presence. A deep sense of satisfaction comes upon me, not because I have received what I've requested, but because I've spent time with you.

Thank you, dear Lord, for the freedom you give me to tell you whatever is on my heart. How glad I am that I don't have to come up with perfectly proper prayers for you. Yet, I thank you even more for making yourself known to me as I pray. Being with you, Lord, is best of all. Amen.

P.S. from Mark

I have explored the ideas in this reflection much more thoroughly in my book on praying the Psalms: No Holds Barred: Wrestling with God in Prayer.