Why Do We Praise God?
Daily Reflection / Produced by The High Calling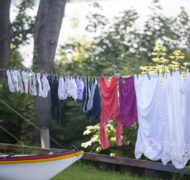 How great is the LORD, how deserving of praise, in the city of our God, which sits on his holy mountain!
Psalms 48:1
In the late 1970s, I first heard a praise song that greatly affected my understanding of worship. It began: "Great is the Lord, and greatly to be praised." Though I didn't realize it at the time, Robert Ewing had simply taken the opening words of Psalm 48 in the King James Version and put them to music.

His setting of these verses helped me to think about why we worship God. Yes, we worship because Scripture tells us to do so. Yes, we worship because, as we do, we often feel God's presence. And yes, we worship because in this context we learn through singing, reading, and hearing the Word of God preached. But, even more fundamentally, we worship because God is worthy of worship. We praise God greatly because God is great. His nature calls forth our worship.

Since I first began, over thirty years ago, to think about why we worship, I've watched as Christians have come to a new appreciation of and zeal for worship. Many of us have discovered the vitality of more exuberant and expressive praise. Others have learned to be moved by the profound words of classic liturgy. Still others of us have experienced God through silent worship. This is all fantastic. But sometimes we can get so impressed by the feelings associated with worship that we can begin to think the main reason for our worship is experiencing certain feelings. This neglects the fundamental truth that we worship because of who God is. He is the King of kings before whom we bow in submission. He is the great God to whom we offer great praise. He is our gracious Savior who is worthy of our thanks and devotion.

QUESTIONS FOR REFLECTION: What motivates you to worship God ... really? When you're in a worship service, what do you expect? What do you think about or do to encourage your worship? Can we worship God through our daily activities? How?
PRAYER: O Lord, you are great, and therefore worthy of great praise. The more I recognize your greatness, the more I am drawn to extol you. The more I receive your great grace, the more I am eager to offer you my thanks. The more I know how much you love me, the more I am able to love you in return.

O Lord, though in worshiping you I receive so very much, may my first intention always be to give you the praise you deserve. May worship be a place for me to offer you all that I am. You deserve this, and so much more! Amen.