You've Got the Power
Daily Reflection / Produced by The High Calling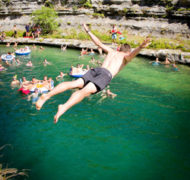 Now to him who is able to do immeasurably more than all we ask or imagine, according to his power that is at work within us, to him be glory in the church and in Christ Jesus throughout all generations, for ever and ever! Amen.
Ephesians 3:20
I'll never forget the very first time I drove a motorized vehicle. My friend's dad had just bought a motorcycle for riding off-road. It wasn't anything particularly powerful. As I recall, it was a Yamaha 90, a fairly lightweight dirt bike. But, from the perspective of a thirteen-year-old boy, it was a rocket.

One weekend, I joined my friend and his dad for a trip out to the California desert so we could ride the motorcycle. They showed me how everything worked and gave me the honor of the first ride. As I released the clutch and gently turned the throttle, the motorcycle shot forward as if by magic. I roared down a dirt road, going probably twenty-five miles per hour, but it felt like a hundred. In a quarter of a mile, I tried to turn around, but misjudged the turning radius. Before I knew it, I ran into a Joshua Tree. No damage to the bike or my body, just to my ego. Soon, I was back on my way as my friend and his dad cheered me on.

I will never, ever forget the feeling of power I had on that day.

According to Ephesians 3:20, you and I have access to an even more amazing power, and it is already at work within us. The verse reads, "Now to him who is able to do immeasurably more than all we ask or imagine, according to his power that is at work within us ..." In yesterday's reflection, we marveled over the fact that God is able to do more than we could ever envision. Today, our astonishment grows when we learn that God's ability to do this resides within us.

A few verses earlier, we learned that God's power dwells in our inner being through the Holy Spirit, who came to live within us when we received God's grace through faith (3:16). Yet, the Spirit doesn't just sit idly by, waiting for an opportunity to do something powerful through us. Rather, according to verse 20, the Spirit is already at work within each of us and among us as the church.

There have been a few times in my life when I have felt God's power rather like I felt the power of that Yamaha 90. For example, I remember times when I prayed for someone to be healed, and healing happened right there on the spot. But, usually, my experience of the Spirit's power is more subdued. Perhaps I'm just not open to more spectacular experiences. Perhaps God is choosing to work through me in different ways. Be that as it may, the fact is that God is already at work within me through the Spirit. The same is true for you.

QUESTIONS FOR FURTHER REFLECTION: How would you live today if you really believed this? When have you experienced God's power in your life? What is God doing in and through you right now? How might you cooperate with this work of his Spirit today?
PRAYER: Gracious, all-powerful God, how I thank you for dwelling within me through your Spirit. Thank you for being at work in me even now. Thank you for times when your power was amazingly evident in my life. Thank you for being at work when I don't even know it.

O Lord, help me to live today with the truth of Ephesians 3:20 filling my heart and mind. May I step out in faith, trusting you to do in and through me what I cannot ask or imagine. Use me in all of my relationships, at work and at home. Use me in my family, my church, and my neighborhood. May I truly live for the praise of your glory today. Amen.
Image courtesy of Laity Lodge Youth Camp, one of our sister programs in the Foundations for Laity Renewal.