Dana Little's Love Patterns
Blog / Produced by The High Calling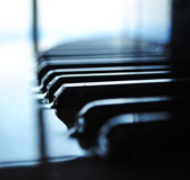 The late Late Tuesday was a trio of women from Bellingham, WA, writing songs and performing together for seven years. While their sound had been compared to piano balladeer Sarah McLachlan and folk troubadours the Indigo Girls, Dana Little, Jocelyn Meyer, and Tara Ward worked to cultivate a sound all their own—timeless folk-pop songs, lovelorn ballads infused with hope—something you might reasonably categorize as suburban pop.
From a craft she's constantly developing and reinventing Dana Little—keyboardist, singer, and songwriter for Late Tuesday—unveils her solo album, twelve tracks she collectively and affectionately refers to as Patterns. It's not exactly a secret Little has been my favorite since I first saw her band perform at a sweet little coffee bar as a freshman in college. Play piano and you've caught my eye; have fun with it and you've found the fast track to my heart. And Little never disappoints.
Patterns opens with an orchestra of oohs as "Still Listening" exhibits growth from Little's work with Late Tuesday. The song evokes perseverance in the face of loss, strength in the midst of regret. Her strong, layered harmonies stitch a delicate homage to Elliott Smith, a most tragic figure in rock music, as she sings Look at how we've all moved on / all the sad in all those songs / and the good that's come and gone / but I'm, I'm still listening. With that, Little foreshadows an album that explores our human habits and capacity for love, self-sabotage, and redemption.
Perseverance—well—perseveres on "The Day It Fell Apart," a poignant testament to intricate support systems in our lives. Further along, "I Fight You" brandishes futile fists in self-defense against those same type of relationships, saying I fight you but it's not what it seems / It seems I think very little of you, I'm sure, acknowledging fault and choosing humility, to a steadily brooding piano. Yet Little still musters poise and grace as she exposes our clumsiest tendencies. I think the glockenspiel helps, and the tapestry of harmonies. Oh, and the second chorus sung right along with the first.
Her clever songwriting and piano sensibilities parade all over this album. "Pictures to Shake" spins a history of injury and betrayal toward an empowered demand for more than fickle proclamations of affection. Little's way with piano might update some earlier comparisons from Sarah McLachlan to Sara Bareilles; her catchy pop songs make you want to stomp along in time. And though new comparisons could be made to the longstanding career of Over the Rhine and their soulful offerings, it's also easy to hear the strong influence of storytellers like Ben Folds and Billy Joel.
Her smooth voice and wide range has so much to tell. Fortunately for us, she has quite the ensemble of bold melodies layered with warm harmonies. The band backing Little's songs enriches each track with just the right accessories of rock, soul, jazz. Andy Lewis's drums and Luke McGee's bass drive "Pictures to Shake" along, while Nate Beede's guitars grunge up the attitude on "Off My Mind." Produced by Martin Feveyear, like Late Tuesday's last record Drowning Out Love, Patterns is a record that recognizes its roots: Little's earlier music as well as patterns in public and private histories. Yet Dana stands apart. As a solo artist, she's altogether remarkable.
Near the album's close, "Believe in Love" returns Little to questions that might not have any answers. The bridge Oh my God, if this is all we have / when are we gonna learn / that this is all we have? confronts the often painful consequences that losing sight of love itself—not romantic, but deep, unconditional love—often brings. When asked, Little said, "At the heart of it, Patterns is about relationships in every sense of the word…something only becomes a pattern if it's in a relationship." And what binds a relationship better than love?
Love is not simplistic in the slightest, as it becomes apparent down to the last, the title track. Love is a multifaceted avenue that opens us up to one another in the best ways. Love is a gift of the greatest importance, and as such it has the greatest risk.
If I were to reduce Patterns to one theme, I would do Little and her project a disservice. But as one of the strongest themes on the album, love—in all its grandeur and disappointment, all its strong fabric and unflattering limitations when shared between imperfect people—true, uncompromising love, much like Little's songwriting here, embroiders an altogether spectacular fashion.
Image by Mari (Nicki&Me). Used by permission via Flickr. Post by David K. Wheeler, author of Contingency Plans: poems. David also has an album called There, There.