Doing Meaningful Work
Blog / Produced by The High Calling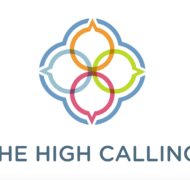 "Nobody likes being around people who hate their jobs. We all need to love what we do, or go work somewhere else. It's really that simple."
That's the honest appraisal by writer and blogger Jeff Goins.
He recently had an experience with a surly flight attendant, who made the entire group of passengers uncomfortable. Clearly, she was in the wrong career field.
"We've all encountered someone like this — angry, frustrated workers who make their jobs worse by complaining about them," he writes. "However, these observations can serve as lessons.
So, how do you make your work matter? Goins has some ideas that "will surprise and delight your boss, coworkers, and even yourself."
Reject the mundane-ness of your circumstance.
Embrace your creative spirit.
Enjoy yourself.
Too many are focused on greener pastures, waiting on that call by the dream employer. Goins wants us to reject that kind of thinking.
"It's easy to get lost in day-dreaming of the perfect job, of waiting for something extraordinary to just come along," he writes. "Sometimes, there's nothing wrong with a little dreaming. But in doing this consistently, you miss out on the chance to be amazing now."
Read his marvelous post, What an Angry Flight Attendant Taught Me about Doing Meaningful Work.