Don't Mistake Doing What You Love With Doing What's Important
Blog / Produced by The High Calling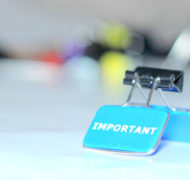 A couple of weeks ago, my wife texted me, "Don't forget to buy Megamillions tickets!:)"
Upon learning of the $656 million jackpot, we couldn't help ourselves from fantasizing about a potential windfall. We'd quit our jobs. Pursue our dreams. Finally, we'd do what we loved.
When the lottery numbers were drawn, ours, of course, did not come up.
I like my job, but other creative passions run deep that I don't have the luxury of pursuing. There are bills to pay, after all. And tuitions. And the ever-looming threat of retirement. Providing financial security to my family is important.
But facing the other side of fifty, I often find myself thinking hard about the choices stacked up against the years I have left. I wonder, what would it be like to run full throttle towards the things I really love doing—writing, for instance, or other creative endeavors?
Why not risk it all and pursue what I love? Isn't that what God wants for me?
I devised a little matrix in my head, with "What's Important" on the vertical axis and "What I Want to Do" on the horizontal, and started plotting my activities to see where they landed on the different quadrants. I quickly realized that doing too much of what I like may not necessarily be the most important thing in the long range for my family, for my future.
It's one thing to dabble (which I do), but my little vocational fantasies could hardly replace my income. Pursuing one's creative dreams may sound glamorous, but the reality is that the top of the economic pyramid for those in the arts is so tiny, with the vast majority of talented people planted firmly at the lower-echelon base.
The difference between doing what's important and doing what you want is that the important stuff is usually harder. It's not so much fun. It generally won't fulfill all of your deepest personal longings. Working a boring job to provide your family with financial security often gets a bad rap from motivational wonks who would have us drop everything to pursue our dreams, but I believe there's something valiant, even noble about it.
Some mistake their desire for creative expression as a divine calling from God. Don't even get me started on this. God never guaranteed that all of our deepest career fantasies would be fulfilled like an American Idol episode. There is no magical, theological formula for forging your vocation. You just have to figure it out like the billions of people who went before you. All I know is that shirking family responsibilities to chase some fantastical dream is immature and self-centered.
And by the way, there's no guarantee that your "dream job" would have led to any more happiness or fulfillment or financial freedom than what you already have right now. Plenty of people have traded in the corporate drudgery for their passions, only to find themselves on a different treadmill, with a lot less security. I think Oscar Wilde was on to something when he said, "It is better to have a steady income than to be fascinating."
Perhaps I'm copping out, or putting a giant damper on things—but someone has to lift up the value and significance of showing up every day, being responsible, doing your job and taking care of business. There's something strong, solid, and respectable about it.
So stay at your dull job, give it your best shot, and save the music gigs for the weekends. You never know—the path of greatest significance may be right there in front of you, if you give it enough attention.
Image by las-initially. Used with permission. Sourced via Flickr.
Post by J.B. Wood, author of At Work as it is in Heaven: 25 Ways to Re-imaging the Spiritual Purpose of Your Work.