On Earth As It Is in Heaven: Living God's Will through Our Daily Work
Blog / Produced by The High Calling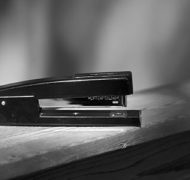 My friend Tyler Wigg-Stevenson, author of The World is Not Ours to Save, tells the story of finding the will of God along a mundane path. Wigg-Stevenson was a recent college graduate working for an anti-nuclear weapons organization and assembled a meeting of activists within a regal, columned hall lit by crystal chandeliers. But what he had envisioned as a dignified gathering suddenly turned into a raucous, law-breaking rally after the keynote speaker exhorted the crowd to strip naked and parade outside in protest of nuclear arms.
The next morning, discouraged by the sheer uselessness of such an act, the idealistic young man—who, at the time, harbored no religious beliefs—wept in despair. "What would you be willing to do to get rid of nuclear weapons?" the rally leader had asked the crowd the night before. Despite the group's absurd answer—marching nude in the streets—Wigg-Stevenson couldn't get the question out of his head. Clearly, stripping naked and marching through the city would accomplish nothing toward their noble goal. But what could do so? His mind ran through a range of options, each seemingly as futile as the last.
Finally, it came to him: perhaps the most powerful thing he could do toward accomplishing the seemingly impossible would be, simply, to show up to work every day. And, after hearing the clear call of God that morning, this is what he has done ever since. Wigg-Stevenson's story is a compelling demonstration of how lofty ends are often achieved through the lowliest means.
The Power of Showing Up
Consider the example of Hermann Friedrich Graebe, a German citizen and Lutheran Christian who was working for a construction company when Hitler came into power. It was Graebe's job to supervise the construction of German fortifications as part of the war effort and to hire workers for these projects. One day, Graebe happened to witness the harrowing execution of thousands of Jews by an SS firing squad. Graebe determined to rescue as many Jews as he could from a similar fate. And he accomplished this through the course of his daily work.
Purporting to contract projects simply for what the German war effort required, he garnered his company more contracts than it could fulfill, and then hired Jewish workers to fill the need for labor he had, by design, created. By hiring these Jews and claiming they were needed for labor, Graebe (like the more famous Oskar Schindler) preserved their lives. Graebe went on to commit many other courageous acts on behalf of imperiled Jews, but it all began by dutifully showing up for work each day.
Dutifully Accomplishing God's Will
Such dutifulness—although out of vogue today—strikes me as the most common means for fulfilling the petition Jesus taught us to pray: "Thy will be done, on earth as it is in heaven."
The words of this prayer are not—as some might take them—an utterance of mere stoic submission to the will of some greater power. Rather, these words are designed to shape our own wills. These words within the Lord's Prayer form in themselves a prayer, one that seeks to put our desires, and consequently our actions, in line with God's will so as to bring heaven nearer to earth, not merely in reliance upon his power, but through the power of our own deeds as well.
If anyone knew something about deeds that allow God's will to be done on earth as it is in heaven, it was Hannah More, the subject of my most recent book. During More's long life (1745-1833), she opened numerous schools in order to teach the poor to read the Bible and learn the catechism along with employable skills. She wrote treatises exhorting the powerful to live an authentic faith. She wrote poems, letters, and tracts to convince her country of the evils of the slave trade. Born poor, she died a wealthy philanthropist whose wealth supported countless ministries and causes, a legacy that continues today. In her last book, The Spirit of Prayer, More reflected on the Lord's Prayer and this portion in particular.
Vital Faith, Vital Acts
Of those four words—"thy will be done"—More wrote, "We are ready to think that a prayer rounded off in four monosyllables can scarcely involve duties co-extensive with our whole course of being." But the fulfillment of such a prayer involves no less than our very being. Seeing God's will done on earth as it is in heaven is not a matter of sitting back and waiting for God to act. Rather, More explains, "A vital faith manifests itself in vital acts." So while these lines of the prayer are expressed in passive terms, their fulfillment is active: "It involves doing as well as suffering, activity as well as acquiescence, zeal as well as forbearance," More writes. The words "thy will be done," More concludes, are the "essential spirit of the Christian life." And when God's will is done, it is on earth as it is in heaven.
Doing God's will need not be dramatic to be world-changing. "The kingdom of heaven is like a treasure hidden in a field," Jesus tells us in the Gospel of Matthew. The one who unearths such a treasure hides it again, then sacrifices everything to buy the land in which it was found. Dutifulness is like this. It is a vast field, and we traverse many acres of earth in search of the priceless treasure of God's will being done. The clerk who sorts endless piles of mail reflects the order of God's universe. The artist's strokes of color across a canvas harness a creativity that springs from the Creator. The carpenter who builds a house prefigures the eternal mansion with many rooms. The toils of the farmer tending the herds resemble that of the Good Shepherd. The mother tending a scraped knee figures forth the Great Physician. The teacher who imparts the gift of reading to a child unlocks the power of the Word.
Such deeds bring a bit of heaven to earth, and in so doing, are never merely mundane.
______________________________
On Earth As It Is in Heaven
When we pray, do we say, "Thy kingdom come, thy will be done, on earth as it is in heaven," and then sit back and wait for someone to show up on the scene and make things happen? As people of faith—at work, in our community, in our home, in our relationships—how do we partner with God to usher in the kingdom of God, right where we are? How can we live the gospel in such a way that we welcome the kingdom of God wherever we show up? What is the impact of doing good work in the places God has called us? What does it mean to do good work, and why does it matter? Does my good work every day make a difference for eternity? After we pray, On Earth As It Is in Heaven, what are practical ways to partner with God in seeing that come to pass, right in the place where we are?
Featured image by Cindee Snider Re. Used with Permission. Source via Flickr.