On Earth As It Is in Heaven: A Prayer for Young Professionals
Blog / Produced by The High Calling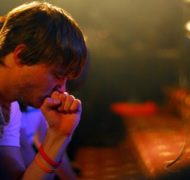 "Thy will be done, on earth as it is in heaven."
These words are familiar to many of us. But even if we pray these words consistently, do we actually expect to see anything change? If we do ask for God's will to be done on earth as it is in heaven, what is our responsibility to affect that change? What role should we play in ushering in the kingdom of God right here and now?
From Campus to Cubicle
As a campus minister, I spend time with college students who have the freedom to be very idealistic. (It's one of the things I love about college students.) They are aware of issues in the world, and they are determined to fix them. They've selected majors that will pave the way for them to move on to careers that will give them opportunities to make a difference. And they honestly believe they will.
After nearly four years in this line of work, I've begun to see those students graduating and heading on to whatever comes next: grad school, moving back home, moving abroad, missions, part-time jobs, temporary jobs, internships, and, in rare cases, the exact job they hoped to land after college.
It's in those years after college when their idealistic dreams begin to collide with reality. Sometimes it's disappointing. Even those who land the dream job will still encounter coworkers who are difficult, bosses who don't seem to appreciate their hard work, and other aspects of the job that are just downright boring.
At a conference I attended recently, author Donald Miller said, "20 percent of every job sucks."
I think he's right. Whether it's the emails, the hours, the commute, working holidays, constant stress, or filing reports, there will always be aspects of a job that we dislike.
But in spite of all of that, we're supposed to live out an "on earth as it is in heaven" prayer daily—in our everyday jobs. What should that look like?
From Opposition to Opportunity
David, a good friend of mine, works in sales. It's not necessarily his dream job, but it's something that comes naturally to him. He reads people well and knows how to provide the exact information the customer is seeking. And that works for him. Which is good, since his salary is 100 percent based on commission.
Working completely on commission can be stressful for David and his coworkers. If they don't make sales, they don't get paid. That's a lot of pressure. But according to David, that pressure is not nearly as challenging as the daily interactions with customers.
"The general public can be brutal," David says. "They take out their problems on you."
And David has to take it. Especially since customers know that he works on commission. He says that working with customers can be tough and it often leaves him and his coworkers feeling "stripped of their humanity." Because of that, it's easy to adopt a "me versus them" mentality when dealing with the difficult ones. He continues to struggle with this aspect of his job, but he is committed to maintaining a positive attitude in spite of those encounters. And he knows that doing so every day—even when he doesn't feel like it—makes a difference.
From Recipe to Redemption
"Over the two years I've been working in this job, I can tell I've been able to gain influence because of my attitude day to day," he says. "A lot of people become negative when they have poor interactions with customers, and I really try to not let that stuff get to me. So people have told me they love working with me because I don't let things bother me and I actually try to encourage other people from buying into the negatives."
In short, he says the key is staying positive in situations when most people wouldn't and offering encouragement when it's needed.
It's amazing what a positive attitude and an encouraging word can do. Even when we're surrounded by difficult customers and toxic interactions, even when we are reminded of the aspects of our job that we loathe (the 20 percent of it that sucks), we can still choose to stay positive and commit to offering encouraging words to others.
Maybe a cocktail of positivity mixed with encouragement isn't the panacea that will cure all the world's ills, but then again, maybe it's enough to give us a glimpse of heaven on earth. As for students, this may not be the colossal impact that they imagine during their college years. But who knows, maybe it's by making a difference in the day-to-day things that we will collectively change the world.
It's worth a shot, right?
So let us pray: Give us this day, give us our daily bread and a positive attitude. And fill us with encouraging words so that we might lavish them upon one another. Thy kingdom come, thy will be done, Lord—even in sales jobs and when dealing with difficult people—on earth as it is in heaven. Amen.
______________________________
On Earth As It Is in Heaven
When we pray, do we say, "Thy kingdom come, thy will be done, on earth as it is in heaven," and then sit back and wait for someone to show up on the scene and make things happen? As people of faith—at work, in our community, in our home, in our relationships—how do we partner with God to usher in the kingdom of God, right where we are? How can we live the gospel in such a way that we welcome the kingdom of God wherever we show up? What is the impact of doing good work in the places God has called us? What does it mean to do good work, and why does it matter? Does my good work every day make a difference for eternity? After we pray, On Earth As It Is in Heaven, what are practical ways to partner with God in seeing that come to pass, right in the place where we are?
Featured image by Ryan Wiedmaier. Used with Permission. Source via Flickr.