Easter Party
Blog / Produced by The High Calling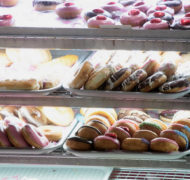 Lent arrives via ashes, but Easter bursts on the scene with raucous joy. Easter shatters the heavy sorrow and insists we hear the bold assertion: gloom, sin, injustice and despair have been trampled under the feet of a victorious, resurrected Jesus. Time to rise up and move out.
This is incredibly good news for those of us who will have it. We are Easter people. We are meant for life, not death. We are meant, in the end, for parties, not tears.
The church I pastor, All Souls in Charlottesville, Virginia, has taken this Easter truth literally. We've made a tradition of throwing a street party every Easter Sunday. We hire Matt, our local artisan baker and the owner of Carpe Donut (yup, Seize the Donut), to pull his funky red trailer downtown and fire up the hot oil. Over the next few hours, Matt hands out hundreds of organic apple cider donuts and Shenandoah Joe's coffee. Originally, we wanted a high-class street shindig and planned a champagne and donuts menu. That grand idea ran into complications, but I'm still hoping we can pop the bubbly one of these Easters.
Some years, we'll have live music. Some years, families gather in the park across the street. Couples in designer threads heading to brunch as well as our friends who frequent the soup kitchen all gather round the donut trailer and feast. When people ask why we're doing this, why the free donuts, we say, Because Jesus rose from the dead, and if there was ever a time to party, this is it…
Some of us wear rose-tinted glasses and bristle at Lent's somber wake-up call. For others of us, however, Lent is actually easier than Easter. Some of us feel comfortable in the greylands. Wearied by disappointment and wounded by grief, we migrate to the lonely spaces. Strangely, we feel more comfortable when our souls bear a heavy weight. Perhaps we fear having our hopes dashed yet again. Perhaps we are too isolated and besieged to hear a new story or sing a new song. Perhaps we simply carry a melancholy energy. Whatever the reason, some of us cling to the night and resist the dawn.
But if we've given ourselves to Lent, we should fling ourselves into Easter all the more. Lent is the prelude; Easter is the big dance. If in Lent we've confessed our sins, in Easter we should revel in our joys. If in Lent we fasted from a food or restrained from a practice, in Easter we should eat extra chocolate or take up skydiving. Easter is the time of feasting, the time of delighting. Easter's the time to kiss longer and dance an extra jig.
It should not be lost on us that, while Lent is 40 days, Easter is 50. However deep the death, God's life is stronger. However true (and necessary) the repentance, the party goes further.