The Gift of Christmas
Blog / Produced by The High Calling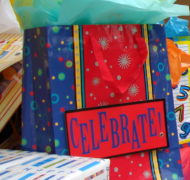 Every family has unique traditions around holidays, but especially when it comes to Christmas. Do you open gifts on Christmas Eve? Attend a worship service? So many times it's the little details that we hold so dear. "It's just not Christmas without Aunt Edna's pecan pie!"
Author Mike Slaughter challenges our comfortable traditions in his book Christmas Is Not Your Birthday.
"We stress ourselves out and even go into debt to create that warm and fuzzy feeling both for our families and ourselves. But that feeling doesn't last. The real meaning of Christmas gets lost in the chaotic clutter of shopping, spending, escalating debt, making exhausting preparations, and building stacks of gifts that most of us don't need or will not ever use."
Raising criticisms of the consumeristic drive at Christmas is hardly something new. One of my favorite cartoons is the 1965 classic "A Charlie Brown Christmas." When Snoopy attaches every blinking light and gaudy decoration he can get his paws on to his dog house, Charlie cries, "My own dog has gone commercial. I can't stand it."
Finally when all seems lost, Linus reminds everyone of the story of the birth of Jesus from the Gospel of Luke. "For unto you is born this day in the city of David a Savior, which is Christ the Lord. And this shall be a sign unto you; You shall find the babe wrapped in swaddling clothes, lying in a manger." We are left to imagine the baby Jesus lying quietly as the children sing "Hark the Herald Angels Sing."
Slaughter says this simple description of the story, while straight from the text, misses the messy reality of Christ's birth. He says, "The real Christmas was a snapshot of poverty and anxiety, not feel-good warm fuzzies." Furthermore, when we end the story at the manger we are in danger of missing the meaning entirely.
Christmas is about a miracle. Miracles don't just happen; they are born through the pains of labor. Pain is not comfortable, and the labor preceding birth is intense, but if we are willing to go through it, God will conceive miracles in us... Every miracle of God is conceived in the heart of a believer, grows in conviction and clarity, and is delivered through a committed action.
This is far from a sentimental story and far from easy. Thankfully, we do not have to travel this journey alone!
The kingdom of God is the place where God's invisible rule is made visible, and the place where evidence of God's presence is demonstrated through a community of people living in submission to God's authority.
So how might this transformed view be made practical? Slaughter encourages us to plan "new traditions that focus on Jesus' presence, rather than the often-forgettable presents we expect to receive."
Last year my husband's family decided to draw names for Christmas gifts. While it was partly motivated by economics and our growing family—three new babies in two years—we discovered we enjoyed the time with family so much more. This year we decided to skip adult gifts all together and take up a collection for charity.
How does your family embrace the meaning of Christmas? What ways can you make Christ more visible through giving of yourself in the year ahead?