Give Me a Break
Blog / Produced by The High Calling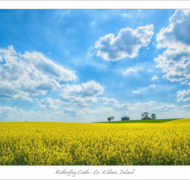 While planning our family's first real-deal, official vacation, I came across the following statistic:
According to research on young professionals in central New Jersey, "86% plan to take an adventure vacation (hiking, diving, etc.) in the next 12 months." That's a lot of people planning a break from their daily work. It also reported that "84% use coupons," which is good, but additional savings won't change the fact that few of those polled will use all of their days off.
Nearly two-thirds of Americans in general fail to maximize their vacation allowance. I'm guilty. I have too much to do, not enough time, just enough money to pay the bills and enjoy a few frills. Vacation doesn't fit. At the very least, it requires a willingness to argue with each of these excuses—and others, too—so I stay home.
Yet, now is the time, when you are young and setting patterns, to get in the habit of prioritizing rest. Sabbath is good, a night out with friends is good. But extended rest—a "suspension of normal," you might say—can do wonders.
Consider this list of benefits, thanks in part to Linden Schaffer: lower risk of heart disease, deeper sleep, sharper decision-making, less depression, and fresh perspective, not to mention the potential for good memories. All results of vacation well-spent, coupons or not.
I want to recommend a recent article by Christian Nathler of Notable.ca. He's writing to young professionals and includes four tips for you to consider as you take (all of your) vacation:
Use it to avoid burnout
Take long breaks (vs extended weekends)
Combine it with existing paid holidays
Travel (beyond your zip code)
He even gives permission to work a little during vacation, under certain conditions.
Wherever you decide to go, have a great time. Trust that the work you've been called to do can stand your temporary departure. Even Jesus took time off.
Additional Content:
+Audio: Got a Sabbath?
+Article: No Time for Vacation Time