For God So Loved...
Daily Reflection / Produced by The High Calling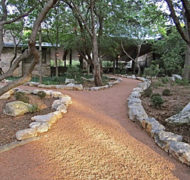 For God loved the world so much that he gave his one and only Son, so that everyone who believes in him will not perish but have eternal life.
John 3:16
As I write this reflection, I'm sitting by my Christmas tree, with instrumental carols playing softly in the background. Ordinarily, I don't write my Daily Reflections several months in advance. And I'm not usually thinking about Holy Saturday a couple of days before Christmas. But the deadline for our Lenten Devotional, combined with my upcoming holiday vacation, has put me in this rather unusual place.

At first I thought, "This is truly bizarre." But as I sat quietly, I began to appreciate the chance to connect Christmas with Holy Saturday, as well as with its framing holy days, Good Friday and Easter. At Christmas, we celebrate the coming of Jesus as the one who will "save his people from their sins," including us (Matt. 1:21). Yet, this salvation does not come only from the Incarnation of the Word of God. Rather, the Word becomes flesh in order to reveal God to us and, crucially, so that he might bear our sin upon the cross. Without Christmas, Good Friday is not possible. Without Good Friday, Christmas is incomplete. (And, of course, neither of these days receive their full meaning apart from Easter.)

One of the most famous verses of Scripture reveals to us the reason behind both Christmas and the cross. According to John 3:16, "For God loved the world so much that he gave his one and only Son, so that everyone who believes in him will not perish but have eternal life." God the Father sent his Son at Christmas so that one day he would die on the cross because of his immense love for the world.

Yet, God does not just love the world as a whole. God also loves each and every one of us, each individual human being, including you. Ephesians 1:4 makes it clear that God loved you and chose you to belong to him even before the creation of the world. He sent his Son to earth and then to the Cross because he loves you. It's easy to write these words, but not so easy to internalize them. I must confess that I struggle sometimes to believe that God loves me. But as I survey the wondrous cross, the Holy Spirit fills my heart with God's love (Rom. 5:5).

On this final day of Lent, may you be embraced by God's love as you remember that he sent his Son out of love for the world, including you.

QUESTIONS FOR REFLECTION: What helps you to believe that God loves you? When has God's love for you been especially real to you?
PRAYER:
When I survey the wondrous cross
On which the Prince of glory died,
My richest gain I count but loss,
And pour contempt on all my pride.

Forbid it, Lord, that I should boast,
Save in the death of Christ my God!
All the vain things that charm me most,
I sacrifice them to His blood.

See from His head, His hands, His feet,
Sorrow and love flow mingled down!
Did e'er such love and sorrow meet,
Or thorns compose so rich a crown?

Were the whole realm of nature mine,
That were a present far too small;
Love so amazing, so divine,
Demands my soul, my life, my all. Amen.

"When I Survey the Wondrous Cross," by Isaac Watts, 1707. Public domain.