A Harvest of Good Deeds for God
Daily Reflection / Produced by The High Calling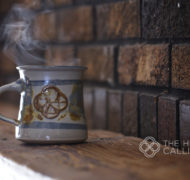 So, my dear brothers and sisters, this is the point: You died to the power of the law when you died with Christ. And now you are united with the one who was raised from the dead. As a result, we can produce a harvest of good deeds for God.
Romans 7:4
Human beings were created to live fruitful lives. Thus we have within us a deep-seated desire to produce through our lives that which really matters. Can't you feel a yearning to produce "a harvest of good deeds for God?" Wouldn't you like to come to the end of your life knowing that your efforts made a genuine difference for the Lord?

This does not happen simply through our own best efforts or intentions. We will bear generous fruit in our lives when we are "united with the one who was raised from the dead." How does this happen? Through his Word and Spirit, Christ guides us. That same Spirit empowers us and gives us wisdom. Because Christ forgives us, we are free from guilt and shame, free to live with boldness. The result is truly fruitful living, and the joy that comes from knowing our lives matter.

QUESTIONS FOR REFLECTION: In what ways are you producing a harvest of good deeds for God? What keeps you from producing this harvest each day?
PRAYER: Dear Lord, my heart yearns to be truly fruitful for you. I want my life to matter for your kingdom. If this is going to happen, I need to be united with you more deeply and fully. So help me, Lord, to spend time with you every day, to turn to you throughout the day in prayer, to rely on your strength, to respond with obedience to the guidance of your Spirit. Help me to put aside that which holds me back from full-orbed relationship with you.

Today, dear Lord, may my life produce a harvest for you. To you be all the glory! Amen.