Have We Hidden the Light of the Gospel?
Blog / Produced by The High Calling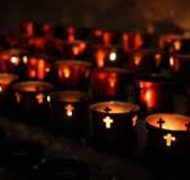 "We have to ask ourselves what responsibility we as Christians bear for the apparent lack of moral virtues in our current culture," says Hugh Whelchel, Executive Director for the Insitute for Faith, Work, and Economics.
"It is easy to place the blame on the media, government, and other factors. But have we neglected our responsibility to be salt and light in our communities?"
Image by Genevive Thul. Used by permission.