Have You Hugged a Journalist Today?
Blog / Produced by The High Calling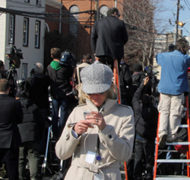 "Lord, grant that my work increase knowledge and help other men. Failing that, Lord, grant that it will not lead to man's destruction. Failing that, Lord, grant that my article in Brain be published before the destruction takes place." ― Walker Percy, Love in the Ruins
Have you thanked a journalist lately? If not, perhaps you should. Journalists earn an average of $36,000 a year in a public service profession that was ranked in the bottom five percent of careers last year because of the stress, physical demands, income, and hiring outlook of the field.
It's more likely that you have complained about a journalist or about media bias than it is that you've stopped to consider journalism as a high calling, but that's exactly what it is.
Sixty-seven journalists died reporting the news last year. That's a 42 percent increase over 2011, the Committee to Protect Journalists reports (and the organization is investigating 30 other 2012 deaths). For the most part, these were not men and women chasing down celebrities. They were reporters covering "war, politics, and human rights issues."
Last year's death toll can be specifically attributed to "the war in Syria, a record number of shootings in Somalia, continued violence in Pakistan, and a worrying increase in Brazilian murders." One journalist, Jim Foley, an American freelancer, has been missing in Syria since November.
Philosopher Edmund Burke has been credited with coining the phrase "fourth estate" to describe journalism's role in making governments accountable to the people they are supposed to serve. He is reported to have said there were "three Estates in Parliament; but, in the Reporters' Gallery yonder, there sat a Fourth Estate more important far than they all."
At the Rutgers University School for Communication and Information in New Brunswick, New Jersey, I learned that my job is to find the truth and tell it straight. Often this means I "comfort the afflicted and afflict the comfortable." This maxim originated with the early twentieth-century writer Finley Peter Dunne in what I only recently learned was a statement about press abuses. Dunne reportedly said:
"Th newspaper does ivrything f'r us. It runs th' polis foorce an' th' banks, commands th' milishy, controls th' ligislachure, baptizes th' young, marries th' foolish, comforts th' afflicted, afflicts th' comfortable, buries th' dead an' roasts thim aftherward."
At its best, journalism is a truth-seeking and truth-telling profession. At its worst, it is dishonest, exploitive, and degrading. When working with sources, I sometimes wish I could send them my list of five tips for dealing with the press, but I'm afraid if I did they would politely decline to be interviewed. Nonetheless, here's what I would say:
Don't lie. Period.
An interview is on the record unless you use words like "off the record" or "on background." (An after-hours cocktail conversation is not.)
A journalist is not your worst enemy; your ego is.
Journalists are not in the public relations business; assuming we are is your mistake, not ours.
If you want empathy, respect our time and don't embarrass or insult us.
It's a tough list, I know, but a journalist's primary responsibility is to his or her readers and/or viewers. No matter how jaded people may be about the media, at some level they still expect us to find and tell the unvarnished truth.
We might do a better job of getting the story right if more of us had the experience of being on the other side of the microphone, particularly for a sensitive story. I've been in that position twice and neither time was pleasant. Both experiences made me a better journalist.
In the first instance, I was a tipster and source on an investigation into clergy sex abuse and its cover up in my former network of churches. Even though the story was published in 2007, it is still cited as a primary piece of solid reporting on a serious issue. The second time was days after my son died by suicide in 2008. Someone—I still don't know who—gave my cell phone number to a student reporter at his college. She wanted to interview me for what I thought would be a nice obituary. What she wrote was not that.
A fine editor once told me that the people we report on want to control our perceptions of them and we can't let them do that. Increasingly, whether it's politicians, celebrities, or business leaders, public figures are bypassing the press to deliver their own versions of reality to the public. It shouldn't surprise us that they don't always tell the truth. It is the job of journalists to find a way to make sure you know what it is. So, next time you are tempted to complain about the press, why don't you consider hugging a reporter instead?
*The images above are from a series I took at Whitney Houston's Homegoing Service. I wrote about that experience at UrbanFaith.
**Facebook editor Jennifer Dukes Lee wrote a beautiful essay about her journalism journey here.
Post and images by Christine A. Scheller.