Having Confidence in Jesus
Daily Reflection / Produced by The High Calling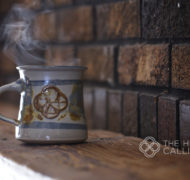 Having carefully investigated everything from the beginning, I also have decided to write a careful account for you, most honorable Theophilus, so you can be certain of the truth of everything you were taught.
Luke 1:
A Few Words of Introduction

Today, I begin a series of Daily Reflections on the Gospel of Luke. Yes, in the providence of God, with a little advance planning on my part, we will be focusing on the Nativity narrative in Luke just at the right time of year. This will be perfect for Advent and Christmas meditations.

If you're new to the Daily Reflections, I should explain that my overall goal is to work through every bit of Scripture, passage by passage. Yes, this will take over a decade. So far, I've covered Genesis, Matthew, Isaiah, Romans, Exodus, Mark, Jeremiah, 1 Corinthians, and Leviticus, with the Psalms on the weekends. You can see a pattern here: Old Testament – New Testament – Old Testament – New Testament, and so forth. Luke is next in line.

My hope is that these Daily Reflections will give you hope and encouragement as you meditate on God's Word (Rom. 15:4). I pray that you will know God more truly, and thus grow in your relationship with him and be equipped to serve him each day.
Introduction to Luke

The Gospel of Luke begins with an explanation of the author's process and purpose in writing. He acknowledges that others have written accounts of the ministry of Jesus (1:1). These writers utilized eyewitness reports that had been passed down from the earliest disciples of Jesus (1:2). Luke, having "carefully investigated" the written and oral sources concerning Jesus, determined to write "a careful account" for a man named Theophilus, who seems to have been a relatively new believer. He wrote so that Theophilus, and all who would read his Gospel, might "be certain of the truth of everything you were taught" (1:4).

The Greek word translated here as "certain" had a variety of senses in ancient Greek, including "firmness, stability, security, safety." Luke is writing so that his readers, including us, might have confidence in our knowledge of Jesus' life, ministry, death, and resurrection. Of course, there is much that we cannot know. Though Luke includes more about Jesus' early life than any of the other biblical Gospels, he provides relatively little.

What Luke does write, however, is based on careful research. He has done his homework, so that his Gospel might be a reliable source for historical information about Jesus of Nazareth. Yet, Luke is not just writing history. He is describing "the events that have been fulfilled among us" (1:1). In other words, the historical content of his Gospel is something to be experienced in our own lives. The stories of Jesus have the power to transform us and to draw us into the ongoing ministry of Jesus through his Spirit.

As we begin our devotional reading through Luke, I encourage you to allow this Gospel to teach you the truth about Jesus, so that you might have confidence in your knowledge of him. But I also urge you to allow the truth of the Gospel to be fulfilled in your own life, as you believe in and follow Jesus each and every day.

QUESTIONS FOR FURTHER REFLECTION: How well do you know the biblical accounts of Jesus' ministry? Would you like to have greater confidence in your knowledge of Jesus? Why or why not? How has the truth of Jesus been fulfilled in your life?
PRAYER: Gracious God, as I begin this reflective reading through the Gospel of Luke, I thank you for Luke. How grateful I am for his careful scholarship and engaging writing. Like Theophilus, I need to have confidence in my knowledge of Jesus. I need to know him truly so that I might follow him more nearly. So, I give you thanks for Luke.

May what I read be more than just a source of historical data. May it be an entry into a deeper experience of Jesus. May the events of the Gospel be fulfilled in my life as I serve you day by day. Amen.