Hearts Filled with the Love of God
Daily Reflection / Produced by The High Calling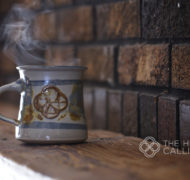 And this hope will not lead to disappointment. For we know how dearly God loves us, because he has given us the Holy Spirit to fill our hearts with his love.
Romans 5:5
Romans 5:5 speaks of the Holy Spirit as filling our hearts with the love of God. The original Greek uses the verb "to pour." The Spirit doesn't give us the love of God in small doses, but generously pours God's love into our hearts.
God doesn't want us simply to believe that he loves us in an intellectual way, though such belief is central to our faith. Rather, God wants us to know his love both intellectually and experientially. The Spirit helps us both to know that we are loved and to experience God's love for us in an immediate, personal, and transforming way.
The more we know God's love, the more we will love him in return, and the more we will love others. The love of God simply cannot be contained. It must be shared in worship and service.
QUESTIONS FOR REFLECTION: When have you experienced God's love for you? Are you open to an even deeper experience of God's love? Have you asked for this gift in prayer?
PRAYER: Gracious God, the fact of your love for me is one of the most astounding and transforming truths I know. It boggles my mind to think that you, the Creator of the universe, the holy God in whom there is no sin, would love me. Thank you for the fact that you love me.
And thank you for helping me to know your love, not simply as a matter of truth, but as a matter of the heart. How grateful I am for your Spirit, who pours your love into my heart.
Dear Lord, though you have already blessed me richly with your love, I would be bold enough to ask for even more. By your Spirit, strengthen my conviction of your love. Please pour even more of your love into my heart, that I might love you and my neighbors more fully. In the name of Jesus, Amen.