Help is For Losers?
Blog / Produced by The High Calling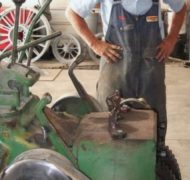 Over at Red Letter Believers, we encourage Christians to follow the Book -- to apply what Jesus tells us to do in our everyday life. We are emplored by our Savior to "Ask and it will be given to you; seek and you will find; knock and the door will be opened to you" (Matt 7:7). We know that we need answers, but we struggle with the asking. "Ask, seek, knock" means that we don't know what to do . . . and that just is so humbling. Asking for help is an exercise that cuts to the core of our pride. After all, needing assistance means that we don't have all the answers. We need direction. It means that our knowledge is deficient, our experience inadequate or our basis lacking.
The "Preparation for Eternity" blog has an interesting post on our reaction when others ask for help. Do we disdain them? Do we dismiss them? Do we lord our superiority over them? Kim, who pens the blog, has people at work who routinely ask him for help. And he admits in his post titled "Help!", that he struggled with a recent request from a new hire for assistance. "I was irritated at having to stop and explain the policies and procedures, the hows and whys of what we do. I didn't have the time or the inclination to stop and manage this person." But then he asks some questions of the heart. Does his feeling of irritation reveal a deeper spiritual flaw? He analyzes some of the unhealthy attitudes that seep in. "Being asked for help puts me in a position of superiority and power. I have something that the person asking for help does not. I can give it or withhold it."
Read the rest of the blog here.
Recommended by David Rupert of Red Letter Believers. Image used with permission from Ann Voskamp.