Help Wanted: Paying Others to Do My Work
Blog / Produced by The High Calling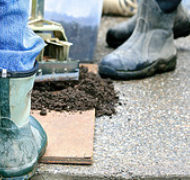 When I arrived home from work, I saw the garage door open, the floor swept out, my boxes and tools and coolers all in new positions throughout the garage. My nephew, Zach, had driven down from his home two states away to stay with me for a few days, to help me with odd jobs around the house so he could earn some money for school. He had just completed his freshman year of college and had $12 to his name. While I was at the office writing articles for my company's website, he was here, cleaning my garage.
"Wow, it looks great!" I told him, impressed that the layer of dust that had accumulated on the storage shelves over the past couple of years had been washed away. The piles of dirt and salt that had dripped from my tires last winter also had been swept out into the gravel driveway. "You've made a lot of progress."
Cleaning the garage was only part of the work Zach had done that first day. He had also removed the sheets of plastic that covered the wooden window frames in my old, drafty house, and he had washed all of the glass panes beneath them. Inside and out. The new toilet seats I had picked up at a nearby home improvement store had been successfully installed. He was quickly checking off items on the to-do list I had made for him.
"I rearranged some things in the garage," he told me, as I looked around at his work.
"I see that," I said, trying hard to resist the urge to put things back the way they were. I was new at this "employer" role, and I wanted him to feel good about the work he had done. He had done good work.
"I really like the way you moved this shelf and opened up the space over here," I told him. "Maybe we could just move a few things back that I use the most, but overall, you've really improved the organization of the garage." And it was true.
Only recently have I found myself in the position to pay other people for work I could easily do. Cleaning out the garage is not rocket science. But it is time consuming. As I get older and refine my priorities, there are some tasks that are worth paying other people to do. I also have stopped mowing my own lawn. I know a family with several boys who are eager to work hard and who need the money. It helps both of us.
I come from a family of do-it-yourselfers, and I'm not talking just about chores like cleaning the garage or mowing. Even large projects—projects like remodeling a bathroom or putting new brakes on the car—were always done in-house by my dad. When I was younger, my mom sewed most of our clothes, and grew and preserved most of our food. Often it was for financial reasons; doing things themselves was a way to save money. But I have a hunch there was also a work ethic involved. If there was work to be done and we could do it, the choice was simple.
As my parents have grown older and have found themselves with more resources of their own, though, I have seen them begin to "outsource" more of their work, too. My mom hasn't sewn in years, and when my dad's house needed a new roof recently, he hired out the work.
So, while I learned early on to do the work that I could, I'm learning lately that I can't do it all. Paying people to help me with work I could do frees me to do the work I want to do. And to rest from work, too.
On the way home from lunch out with Zach earlier that same day, I had stopped at the credit union to withdraw the cash I would need to pay him for his work. When I pulled the bills out of the little slot from the ATM machine, I handed them directly to Zach.
"Are you sure you want to give me the money before I even do the work?" he asked me.
"Sure," I said. "And if you don't do a good job, I'll be here to make you redo it!" We laughed.
As Zach took the cash from my hand, I smiled. He wasn't going to be rich with the amount I was giving him, but even to me, it was a lot of money. I had worked hard to earn it. But I knew he would, too.
Photo by Simply Darlene. Post by High Calling Content Editor Charity Singleton.