Hollywood Pilgrims
Blog / Produced by The High Calling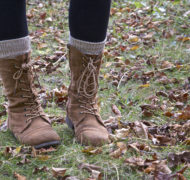 This is the fourth of five legs in our Friday pilgrimage series. Read on and you'll find links to the others below.
Bad Blake is my favorite Hollywood pilgrim of 2010. When I first met him through a RedBox-acquired DVD of Crazy Heart, I didn't see a pilgrim at all. Blake just smoked, chased and drank while traveling from one microphone to the next. As Kami Rice clarified in last week's post, traveling of this sort does not a pilgrim make. Blake's style – as portrayed by Jeff Bridges himself, who won Best Actor for this role – is throw-back country bar. He plays his tunes well for aging fans, despite occasional breaks from stage to throw up the day's coping mechanism. He is getting old and sick and seems too settled to care. Yet as future pilgrims do, Blake – in his settlement – meets a few travelers who spur movement. Blake doesn't move fast or much. In fact, a significant portion of the film is him passing the time and suffering as an alcoholic, unable to get unstuck. One occurrence after another, however, leads him slowly toward the bottom where all broken people must go before coming up. Blake's life goes from bad to worse, and after an incident involving drink and a misplaced pre-schooler, he finally checks in to Alcoholics Anonymous. Crazy Heart's writers* handled this decline and ultimate check-in believably, and from that point on this settler's road creates an inspiring tale of inner healing. I'll say more about the ending in a moment, but first I want to introduce you to a second Hollywood pilgrim.
Up in the Air
Have you seen Up in the Air, starring George Clooney? I watched this double-meaning title within a week or two of Crazy Heart and I mention this because the movies are uncannily similar.** I didn't intend to watch them together, yet the one-two punch inspired this pilgrimage series. Ryan Bingham fires people for a living. He travels American Airlines from one down-sizing corporation to the next, sits across a nondescript conference room table from each to-be-canned employee and, with efficiency and poise, gives the unsuspecting a strong dose of bad news. Then he gets on the next flight and repeats the process. As awful as it sounds, he loves his job. I, for one, simply can't imagine loving his job. As with Bad Blake, we follow this solitary human who moves from one place to the next without really moving at all. Until, of course, a few occurrences interrupt Bingham's sedentary life. Unlike Blake, Bingham never hits bottom. He doesn't need to, in a sense, because he's a relatively upstanding guy with self-control and an acceptable, albeit self-defined, moral code. Yet he begins to move.
Having an end in mind
What struck me about both endings was that these new pilgrims didn't land where I thought they would. Even late into each film, I felt certain about this or that, and ended up being wrong. In the one, it's possible that my expectations were exceeded, simply because what happened was more mature than the tidy finish I had hoped for. In the other, well, I don't know. Did he return to being a settler? Did he experience a hopeful shot at a better life, only to see it disappear like it did for the poor souls in Awakenings? I'm glad for pilgrims such as Bad Blake and Ryan Bingham. I'm glad Hollywood (I use this film location loosely) hasn't lost all sense of morality. I'm glad there are still a few films with conversion stories – even Gospel conversions (you must hear Blake's redemption song after leaving AA) – at its center. And I'm glad God continues to send pilgrims and occurrences my way to get me out of my own settlerdom. Philosophically, I believe all of us – Christian or not – search for Home throughout our lives. But too often we're content to search in such a disordered way that it looks and feels no different than Blake's former life, and this sobering thought forces me to ask: How often do I run like mad through life only to realize I'm suffering rot from standing in place too long?
Post written by Sam Van Eman.
----- *The screenplay for Crazy Heart was adapted from a novel of the same name, written by Thomas Cobb. **Trivia from imdb.com: "In 2010, George Clooney, who played Ryan Bingham [in Up in the Air], was only nominated for an Oscar…while the real Ryan Bingham won an Oscar for the song 'The Weary Kind' he wrote together with T-Bone Burnett that featured in Crazy Heart (2009)."
Follow along with this Friday pilgrimage series: