Honor God by Caring for His Creation
Blog / Produced by The High Calling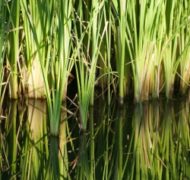 There is a canyon in West Virginia, inaccessible by anything but a whitewater canoe. The 17-mile stretch defines "out-of-office." Not long after I met Dave Brotherton, environmental scientist and Young Professionals coach here at The High Calling, we traveled this stretch together. There were about a dozen of us spending a week and a half in this wildplace, but I remember Dave distinctly because of his mini field trips.
At least once a day, this tall, thin, gentle man—wise and deep-voiced like an Ent from The Lord of the Rings—would perk up, attuned to something the rest of us had obviously missed. Then he would say, "Did you hear that?"
"No, what was it?"
"Listen."
We'd listen and his eyes would suddenly flicker. "There." The corner of his mouth would turn slightly—almost imperceptibly—Dave's quiet way of jumping out of his boots with excitement.
"We don't hear anything," we'd say again. But we really wanted to.
"C'mon." He'd stand and motion for us to follow, his long strides taking him halfway down the river bank before we could even get started. "I'll show you."
*****
I talked with Dave recently about his work in environmental science—a field growing about 5% faster than the average of all occupations in the U.S.—and how he got where he is today.
I started as a computer science major mostly because I didn't know what I wanted to do. I switched to biology the very next semester, and was fortunate to have a great biology professor who opened up my world to wetlands, wildlife research, and natural history.
And you love the outdoors.
I feel most alive when I'm outside. In fact, toward the end of graduate school, I remember facing the decision between a full-time lucrative job that would require three-quarters office work, and a temporary seasonal job researching amphibians in the wild. I didn't care what it paid, if anything. I knew that if they offered me the seasonal job, I would take it. And I did.
You didn't wonder if you were picking the foolish option?
I see all of this now as God working in my life, providing opportunities to choose this path.
I rmentioned 5% growth earlier, Dave, but I also read that there are over 100,000 environmental scientists in the U.S., and—according to the Department of Labor—a projected increase of nearly 20% more jobs like yours between now and 2020. That's a lot of tadpoles in the pond. Tell me something that helped you get ahead when you were a young professional?
I worked for the Wildlife Conservation Society (WCS) for five years as a herpetologist researching amphibians and reptiles in National Parks. Before he passed away in 2006, I was fortunate to work under John Behler, the former curator of reptiles at the Bronx Zoo and author of the National Audubon Society Field Guide to North American Reptiles and Amphibians (WCS manages the Bronx Zoo, one of the largest metropolitan zoos in the world). John had a passion for amphibian and reptile conservation that was contagious. His work was exciting and meaningful, making a real difference in this field.
I was also allowed to run with the project from start to finish. This gave me confidence, encouraged me to work hard, and provided fulfilment.
When Jesus told the Good Samaritan story, he wrapped it up by saying, Go and do likewise. How do you interpret his words in your own work?
Creation care is a way of doing something meaningful, beyond myself. It's thinking sustainably and caring for what God has given us.
As a result, I imagine you probably see trees when others see paper, or you see an ecosystem next to the highway when others just see traffic on the highway. And loving your neighbor is right in there, too.
As a student, I learned about what it meant to be a good steward but never really about how to apply that thinking in real life. Now that I'm "out-of-office" regularly, I experience a connection between what I do and how it affects our world.
For example, I see wetlands and think of the benefits they provide: clean water, erosion control, wildlife habitat, recreation, beauty, flood control, pollution control, education.... By restoring these habitats, I like to think that my work contributes to making the planet function like it was designed to.
Well, then, keep going! Dave, last week I told readers that if they were to start talking with you, they'd want to get dirty in a pair of waders. Any inspirational stories that come to mind?
I have one. The William Floyd Estate on Long Island was once owned by the naturalist John T. Nichols, former curator at the American Museum of Natural History. Nichols' journals contain data on over 1,000 box turtles that he measured, marked, and released on this property now owned by the National Park Service. Some of those marked have been recaptured over the years by park staff, the oldest turtle being 60 to 70 years old. But when we conducting surveys there in 2002 with WCS, we found a male box turtle first marked by Nichols in 1921. In his journal, he estimated the age of the turtle at the time to be 19, making it at least 100 years old when we found it!
*****
On one of those mini field trips, Dave walked to the river bank and stopped at the tall grasses to listen. Then he moved in a specific direction a few yards, then stopped again. We could hear it now over the water spilling by, a low call. Dave pushed aside the vegetation and reached. Within seconds, he stood and turned to us, grinning wide and holding a Pickerel frog, just as he had predicted.
Dave was alive.
Other out-of-office articles:
Dave Brotherton is a young professionals coach at The High Calling, and that is his photo of Nichols' 100-year-old Box Turtle. For related reading, see A Zoologist in Awe of God's Creation by college senior Cora Munroe.