Honoring God with New Flavors
Blog / Produced by The High Calling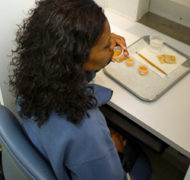 When Joe Slawek, CEO of Flavors of North America, accepted Ernst & Young's Entrepreneur of the Year Award, he pointed heavenward and told the audience that he, like a certain football player, wanted to "give all the glory and honor and credit to God."
In 1987, Slawek founded Flavors of North America, a chemical development and manufacturing company that creates flavoring agents for the food and beverage industry. A self-described "baby Christian" at the time, Slawek tried to put his faith into his new venture. "It was eye-opening to me, to see how God's word applies to our business life," he says.
As Chief Executive Officer of FONA, he continues to apply those principles to running his company and his life. It's paying off. The company has been named to "101 Best and Brightest companies to work for" list every year since 2006. In 2011, it was named "best of the best" in the Chicago area.
A member of the Chicagoland Entrepreneurial Hall of Fame, this CEO says his company is secular, yet is run on Christian principles including integrity, excellence, generosity and stewardship.
When he was in his 30s, Slawek had worked his way up to assistant to the president in another flavor company. "As a Christian, I believe you are under the authority of your boss, and if you don't like the way things are done, well, you could go start your own company," he says. So after years of climbing the corporate ladder, he struck out on his own to found FONA as a company that would be both "high tech, and high touch."
He credits resources like Business by the Book by Larry Burkett and the materials from Crown Ministries with shaping his business philosophies and practices.
"People talk about being biblical as far as marriage, or parenting, but what was interesting to me is the idea of running a company biblically. The way I see it, the Bible is true all of the time or none of the time. It applies to every area of life, including business." Slawek, who has read a chapter of Proverbs each day for the last 20 years, firmly believes in the wisdom he finds there.
What does that look like? "It means you do the right thing in every situation, even if it's expensive," he says. He points to Matthew 25 for inspiration, specifically the parable of the talents, and Jesus' teachings on how we're to treat "the least of these."
He notes that the good servants in Jesus' parable each doubled their master's investment. From this he extracts a principle he calls "two-by-four" which means "we double our revenues every four years." He's committed to growth, and excellence, but not just for growth's sake—because he wants to honor God.
"Our values are attracting people to Christ or pushing them away, we have to decide. A pastor gets to teach values one hour a week, but in the workplace you're teaching values forty, fifty or even sixty hours a week."
A pleasant flavor
FONA creates flavorings for the food and beverage industry. Slawek believes excellence is important, and the very act of creating something honors God.
"God's creation is always the model for something that's good," he says. "We honor God when we create great flavors that mimic creation."
Slawek believes the very act of creating anything, from a new flavor to a new relationship, is how human beings display the image of God within them. And entrepreneurship, he says, is creative in nature.
"God is a creator, and I believe he smiles on entrepreneurs because we're creators," he says. "There's a certain smile that God has when you create a new relationship. We're to go and tend the garden—there's good that comes from developing people, working with them, taking them to the next level. God likes it when we grow, and when you have your people grow."
​
To that end, FONA requires all employees to do a week of outside training per year, which is paid for by the company. This training has helped many employees further their education.
Christian values
Stewardship is another high value at FONA. According to its website, FONA donates an average of 19 percent of its post-tax profits to charity each year.
"We as owners give from our own salaries, but the company also gives a 'tithes plus' to charity," Slawek says.
He notes that the beneficiaries of FONA's charity are not just Christian organizations, but also secular organizations that are doing good in the community, including local food banks, hospice organizations, and even a wildlife foundation.
"That's the 'When did we see you thirsty?' part of Matthew 25," he says.
"Organizations are meant to duplicate the leadership," says Slawek. "Whatever you do, your people will do, and multiply."
Keri Wyatt Kent is an author, speaker and blogger. Learn more at www.keriwyattkent.com.