Household Idols
Daily Reflection / Produced by The High Calling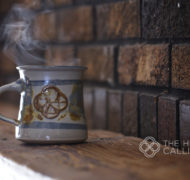 At the time they left, Laban was some distance away, shearing his sheep. Rachel stole her father's household idols and took them with her.
Genesis 31:19
As Jacob and his wives were preparing to sneak away from their father, Laban, Rachel took her father's household idols. These statues were common in Ancient Near Eastern homes and were believed to bring good luck and protection.

The text of Genesis does not explain why Rachel stole her father's idols. Presumably, she did so because she wanted an extra measure of blessing and protection. Even though she recognized that God had blessed Jacob richly and was directing his paths (vv. 14-16), she wanted something more to reassure her as she left home for a new land. Faith in God was enough to get Rachel to agree to move, but it wasn't enough for her emotional security.

Most of us don't have household idols in a literal sense, but we often cling to things besides God for security. Our success, our jobs, our families, our financial reserves, our good works . . . all of these can be like household idols. A great challenge of faith is to learn to let go of such things and trust God completely.

QUESTIONS FOR REFLECTION: Do you have any "household idols"? When you find it hard to trust God, what do you hang on to for security?
PRAYER: Gracious Lord, though I don't have any material gods to give me comfort, there are times when trusting you alone is too scary for me. So I hang on to other things, my version of "household idols." Forgive me, Lord, for my failure to trust in you alone. And help me to trust you more and more each day, leaning in your "everlasting arms."
May I have more and more confidence in you each day, beginning today. So when I face challenges and disappointments today, may I lean upon you for strength, wisdom, and reassurance. Thank you for being there for me. Amen.