How Can I Be Filled With the Spirit? Part 3
Daily Reflection / Produced by The High Calling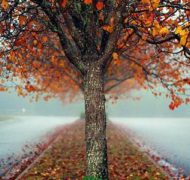 Do not get drunk on wine, which leads to debauchery. Instead, be filled with the Spirit.
Ephesians 5:18
In last Thursday's reflection, we noted that the imperative of Ephesians 5:18 is passive. It does not mean, "Fill yourself with the Spirit," but rather, "Let God fill you with the Spirit." We cannot do anything to force God to fill us, as if by magic. But we can be available, open to the Spirit, ready to serve the Lord in worship and in ministry to others.

There is another peculiar feature of the imperative, "Be filled with the Spirit, though this does not show up in most English translations. The Greek form of "be filled" is a present imperative. This form suggests an ongoing action, not something that happens once and for all. In English, we might render the present imperative in Greek as "keep on being filled with the Spirit." The use of the present suggests that the filling of the Spirit is something that can happen again and again in the life of the believer.

Scripture teaches that we receive the Spirit when we put our faith in Jesus Christ as Lord and Savior. To put it in its negative form, "If anyone does not have the Spirit of Christ, they do not belong to Christ" (Rom. 8:9). Positively, if you belong to Christ, then "the Spirit of God lives in you" (Rom. 8:9).

Yet, there is a sense in which we who have the Spirit can, at times, be filled with the Spirit so that we might worship or minister to others with unusual power. How can we make sense of this? Consider the example of breath (which would be referred to in Greek as pneuma, the same word translated as "spirit"). In ordinary life, you and I have breath within us, which keeps us alive and allows us to function normally. Most of the time, we don't even think about our breathing and we do just fine with an ordinary amount of breath in our lungs. But, every now and then, we fill our lungs with extra breath, perhaps because we're planning to swim underwater or because we're hiking up a steep hill. In those unusual times, we are filled with pneuma, with breath. Similarly, there are times when God fills us with his pneuma so that we might serve him with extra vigor. The present imperative "Keep on being filled with the Spirit" suggests that this is something that can and should happen often in our lives.

Once again, I would emphasize that the purpose of being filled with the Spirit isn't primarily so that we might have an experience of God, no matter how wonderful this might be. Rather, we are filled in order to serve. Thus, if we want to be filled with the Spirit, we must be ready and willing to offer ourselves as servants to God and to others in God's name.

QUESTIONS FOR FURTHER REFLECTION: Can you think of times in your life when you were filled with the Spirit? Did these fillings empower you for service to God? Are there acts of service to which God is calling you now and for which you need God's power to do?
PRAYER: Gracious God, even as you have filled me with your Spirit in the past, I ask you to fill me again. Fill me so that I might worship you with wholeheartedness. Fill me so that I might serve others with gladness and self-sacrifice. "Spirit of the living God, fall afresh on me." Amen.
______________________________
How Can I Be Filled With the Spirit?
This is the first of five reflections in a short series responding to the question: How can I be filled with the Spirit? The Apostle Paul surely knew the story of Pentecost and the charge that the believers were drunk. He also knew that many of the pagan religions in his time mixed drunkenness with mystical experience. Drinking great quantities of wine was a ticket to spiritual ecstasy and wild celebration. Paul was clear that this was not the way of Christ. His followers were not to get drunk on wine in order to be filled with the Spirit. Rather, they were to avoid drunkenness. Instead, they were to be filled with the Spirit. In this series of reflections we consider what it means to "be filled with the Spirit."
Featured image by Marty Hadding. Used with Permission. Source via Flickr.