How Can I Keep From Singing?
Blog / Produced by The High Calling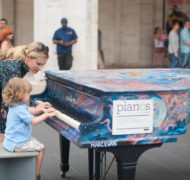 Life took a new turn and Lynn Morrissey felt God call her to step away from her singing ministry. She never regretted listening to God's voice, but she missed using her gift. In this article from our Art Matters theme, she asks, "How can I keep from singing?"
I sat in the darkened sanctuary, sunset shimmering through stained glass, casting jeweled mosaics onto walls. Women's voices sang musical mosaics of colorful timbres and tempi.
A longing I could barely identify stirred my heart. With each note the chorus sang, it crescendoed into resounding recognition. "My heart flows on in endless song, above earth's lamentation. I hear the real, though far-off hymn that hails a new creation. Above the tumult and the strife, I hear the music ringing. It sounds an echo in my soul—how can I keep from singing?"
"How can I keep from singing?" Those words echoed in the caverns of my soul, tinged with sadness but suffused with the joy of music's memories.
"How can I keep from singing?" the voices asked again.
A Far Off Hymn
How could I, who as a little girl sang joyfully in my crib; who knew countless nursery songs, hymns, and carols by the time I was two; who as a teen sang in church and school choirs; who sang leads in school musicals; who became a college vocal major and later sang in professional choruses—how could I keep from singing?
But I had. I had for many years.
When I worked as an executive director, led Bible studies, served on community committees, and had a child at forty, I sensed God's leading to quit several professional choruses because they were time-consuming. It was a heartrending decision, but I never looked back.
Yet somewhere deep within, I continued to hear a faint and far-off hymn, an echo of my soul, an echo of my past, an echo of singing.
I heard echoes of Grandpa's tenor tones as he sang to me while carrying me on his shoulder, of Mother's bedtime lullabies as she tucked me in each night, of family sing-alongs when Grandma played the old ivory-keyed upright, where voices young and old harmonized in the dominant chord of love.
Over these blended voices I heard the most sonorous one of all: my father's. Oh, my father's voice! It could only be described as a lavish gift from God, rich and deep as rarest ore, mined from the depths of his being. When Daddy opened his mouth to sing, our hearts stopped, our breath caught, as his glorious sound overflowed space—as if the very air would burst with the sound of his voice—reverberating and rolling like a great swelling tide.
In the last months of my father's life, as he lay dying in unending pain, his booming bass voice weakened to barely a whisper. Unimaginably, one night I heard him singing in his hospital room. "Nobody knows the trouble I've seen. Nobody knows but Jesus." Daddy's song was prayer, exhaled softly on each hard-fought breath, pressing his lips to the ear of God. Even when he was dying, my father couldn't keep from singing.
Alas, for Those That Never Sing
And how can we, in our living, keep from singing? We sing our joy and sorrow, our pain and pleasure, and as Christians, our "psalms and hymns and spiritual songs." We make music in our hearts to the Lord as an act of thanksgiving and worship. When our mouth stops singing, our hearts stop praising … and we start dying.
In all those years that I stopped singing, something in me was dying—something soulful, something sacred, something significant. Though at God's direction I had left choral involvement, I experienced piercing pain, the pain that comes from a death of heart.
Oliver Wendell Holmes once lamented, "Alas, for those that never sing, but die with all their music in them." Would I die with all my music in me? Or would I, as Shakespeare said, be so profoundly touched by "the sweet power of music" that I would "bring [my] music forth into the air" through singing?
I began to understand that singing is my birthright, encoded in my spiritual DNA. My immortal soul, created in God's image, is a living note formed in the mouth of God. I had mistakenly equated singing with public singing. But true singing—God-given singing—is making melody not just with our lips but with our hearts.
God's Music in Me
Though God had curtailed my singing in public, he was inviting me to sing praises to him from my heart throughout my daily round. I realized I could sing any time, any place because the Lord was always with me. My life flows on in endless song because God's music and his mercies never cease; they are new every morning. God's music will always be in me.
Daddy used to sing the majestic solo "Without a Song." I hear his lush, velveted voice even now: "Without a song the day would never end. Without a song the road would never bend. When things go wrong, a man ain't got a friend, without a song. … I got my trouble and woe, and sure as I know, the Jordan will roll. I'll get along as long as a song is strong in my soul. I'll never know what makes the rain to fall. I'll never know what makes the grass so tall. I only know there ain't no love at all without a song."
Love isn't love until it's expressed. God expressed his fathomless love by giving sinless Christ to die for us. But our love isn't love at all without his song of love strong in our soul, without a song of gratitude on our lips, in praise for all he has given.
And he has given me a love song to sing back to him now and for all eternity. Oh yes—yes! I cannot keep from singing.