How Can We Help Refugees? June 1 Newsletter
Newsletter / Produced by The High Calling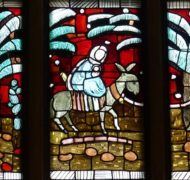 More than a million people crossed into Europe in 2015. In the first months of 2016 the pace did not slacken as people tried to escape war and violence in places such as Syria and Afghanistan. As they find new homes in Europe and in the U.S. these refugees face challenges adapting to different cultures that are simultaneously adapting to them.
We may ask ourselves what we can do in our daily work in response to such a vast problem. In this newsletter we'll hear one woman's story of what it's like to work in refugee resettlement. We'll be reminded that God always seeks justice for those the world forgets. And we'll hear Biblical lessons about being fair to all in the workplace, including refugees. (For more practical tips on meeting the needs of refugees, click here.)
Take heart: the crisis is great, but God is greater. And he is a God who welcomes all weary wanderers home.
The Faces Behind the Labels
From The High Calling
Dena Dyer worked at a charity helping to resettle refugees and learned some surprising lessons. Read more
Justice for Orphans and the Oppressed
From The High Calling
In this classic daily reflection, Mark Roberts reminds those of us who have power in the workplace to use our power for God's purpose, and gives a word of hope to those without power. Read more
Treating Workers Fairly
From the Theology of Work Project
The Bible reminds us that our thoughts on immigrants and the workplace should be ruled by holiness, not practical expediency. Read more