How Do You Find Your Calling?
Blog / Produced by The High Calling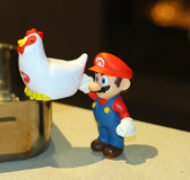 The word "calling" can mean different things to different people. For some, it means getting paid to do what you love. For others, calling is a passion they pursue outside of their 9 to 5 world. Here at The High Calling, we believe every job can be a high calling, and that talents, careers, and passions are all given to us by God—to use in furthering His kingdom.
Elise Amyx (from the Institute for Faith, Work, & Economics) says, "Your calling is always present. It's not something you find under a rock or something that falls from the sky onto your lap. Instead, it shows itself, being revealed after prayer, reflection and input from trusted friends and relatives."
Amyx shares simple and practical advice for anyone seeking to discover their calling, gleaned from a recent IFWE conference. Read more.
Image by David Lea. Used with permission. Sourced via Flickr.