How Does Love Lead to Spiritual Gifts?
Daily Reflection / Produced by The High Calling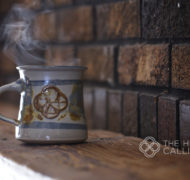 Let love be your highest goal! But you should also desire the special abilities the Spirit gives—especially the ability to prophesy.
1 Corinthians 14:
Yesterday, I sought to answer the question "Is it okay to want more of the Spirit's power?" On the basis of 1 Corinthians 14:1, my answer was "Yes." This verse teaches us to desire "the special abilities the Spirit gives," which we usually call spiritual gifts. But 1 Corinthians 14:1 establishes the priority of love. Before being zealous for spiritual gifts, we are to make love our highest goal. In fact, it seems that, somehow, when we seek to love, we will therefore seek additional empowerment by the Holy Spirit.

Today, I want to pause a bit longer to consider the question: How does love lead to spiritual gifts? If we pursue love above all, how does this lead to a desire for more of the Spirit's power?

Perhaps an illustration or two will help answer this question. I think, for example, of Sunday School teachers I knew at Irvine Presbyterian Church. They love the children entrusted to them, and sought to teach them God's truth in a way they could understand. Thus they would pray for extra help from the Spirit, asking for gifts of teaching and wisdom. Their desire for gifts flowed from their love for the children in their classes.

Many times throughout my tenure at Irvine, I was asked to pray for the sick. Now I do not happen to have been gifted for a special ministry of healing, though I believe God can and does use the prayers of ordinary people to heal physical, emotional, and spiritual ailments. So I would gladly pray for the sick, preferably with a team of people who prayed along with me. As I laid my hands on the sick and prayed, I often felt my love and compassion for them grow. The more I loved, the more I was eager for the Spirit to give a gift of healing.

If we focus on loving people, if we make serving them our chief goal, then we will find ourselves eager for more of the Spirit's power, not so that we might have some kind of mystical experience, but so that people might be ministered to . . . taught, healed, encouraged, guided, and so forth. The more we step out in faith to love others in the name of Christ, the more we will "desire the special abilities the Spirit gives," and the more we will experience the power of the Spirit working through us.

QUESTIONS FOR FURTHER REFLECTION: As you reflect upon the connection of love and spiritual gifts, have you ever experienced that connection in your own life? Does your love for people ever lead to a desire within you for gifts of teaching, or wisdom, or healing, or leadership, or . . . ?
PRAYER:
Dear Lord, how I thank you for the presence and power of your Spirit. Thank you for the ways you use me to do the work of your kingdom. Thank you for enabling me to do so much more than I could accomplish in my own strength.

May you fill my heart with so much love for others that I can't help but desire your power to serve them. Keep me from being preoccupied with myself and my experiences. Rather, may I focus on the needs of others and on your magnificent grace.

Specifically, Lord, I would pray that you give me gifts of teaching and wisdom as I write these Daily Reflections. Help me to write what is true and edifying for all those who read these devotional thoughts.

I pray in the name of Jesus, who ministered to the hurting with exemplary love. Amen.
P.S. If you're wondering about what Paul means when he speaks about prophecy and why he values prophecy so highly, you may want to read a piece I have posted on my blog: What is Prophecy in 1 Corinthians?