How Knowing Your "Why" Can Help You Love Your Work
Blog / Produced by The High Calling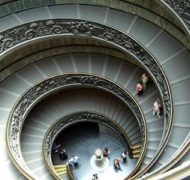 Marlon Hall describes himself as a griot who enjoys telling stories. He uses photography, anthropology, filmmaking, and writing to share stories of love, imagination, and passion. Marlon is the cultural architect and spiritual leader of The Awakenings Movement, a grassroots community of social visionaries and culture shapers in Houston, Detroit, and Nairobi. Currently, Marlon serves as General Manager of The Eat Gallery, a gallery for emerging culinary artists.
Recently, Marlon joined Mark Roberts as a speaker at The High Calling retreat at Laity Lodge. We spoke with Marlon, to get his perspective on Feeling the Love at Work, our current series, here at The High Calling.
The High Calling (THC): Marlon, you hold a joint degree from Fisk and Vanderbilt Universities in African Anthropology and Political Science, with a special National Endowment for the Humanities project in Ethnomusicology. How did that happen, and what does it mean?
Marlon Hall (MH): While a student at Fisk, I was a teacher's assistant for a professor in the African History department. She invited me to partner with her as a videographer to film an exploration of the blues. She had received a National Endowment of the Humanities Grant to learn how humor in blues music spoke to the human need to process pain and adversity. I got to laugh at the hilariously subtle way that The Blues represents our intrinsic desire to laugh at our pain and loss.
THC: What motivates you?
MH: Human potential motivates me. I believe every human being has gifts and experiences that can inspire human development. My objective is to reveal resonant human beauty and to equip the people within my reach to become life artists. I am obsessed with curating spaces for human possibility and life art through film, public art projects, and creative experiences that are a silent evangelism to the Gospel! They are the creative flesh that comes from the eternal word of God.
THC: How would you describe the work you do now?
MH: The project is called Folklore Films, and the goal is telling better stories to Houston about Houston, one folkloric story at a time. In these films, our missional goal is to excavate the divine, laying dormant beneath the everyday stories of folkloric Houstonians. By telling better stories to Houston about Houstonians we have found ourselves city-sanctioned witnesses to the "Good News" of our beloved city.
THC: Anyone watching you would recognize you as someone who loves his work. What is it like to love what you do?
MH: Loving what you do is like a roller coaster ride: Scary and exciting, full of twists and unpredictable turns.
THC: What's the backstory of your current work? How did it come to be?
MH: In a city whose commerce is driven by natural resources, many of which are not renewable, we have discovered that the last renewable resource is The Human Story. No other resource in the city adds value and values like a good story. Great folklore begins with good rumors. This project is a good rumor mill for that last renewable resource.
I am inspired by the work of Joseph Beuys who considered himself a social sculptor; an artist who designed an extended definition of art by saying, "Social sculpture is a creative participatory role in shaping culture." Using peoples' stories, I strive to have an apostolic hand in sculpting our world for good.
A Council Member in Houston invited us to curate a public art project in an old neighborhood that had featured some films I was directing. Tthe Folklore Film project was developed from this opportunity.
THC: What would you say to people who are doing work they do not enjoy, or for which they do not feel "called" or uniquely equipped?
MH: First, turn your irritation about where you are, into intrigue for what can come from it. Become a purpose archeologist, excavating your passion in life from the remnants of your current profession. If hospitality is your passion and architecture is your profession, be hospitable with the engineers and contractors you work with. If architecture is your passion and hospitality is your profession, then find ways to construct love and compassion at work where you are.
Second, plan to take the risk of engaging your passion. In this era of work and life, it is riskier to be safe and safer to be risky. Pursue you passion in life as if your life depended on it, because someone's life does!
THC: I've heard you talk about knowing the importance of your "Why." Can you tell us more about that?
MH: Our Why is the heart of what fuels us as human beings. Every other question is an artery that connects to the heart of why we were born. We get this confused with what, where, when, how, and who.
The Why must fuel our lives more than who we want to become in title, or where we want to live in address, or what we want to do, or how we want to look doing it. These interrogative arteries must be cleared up and connected to the heart—the Why—or they will clog and give us a heart attack. This leads us to lose heart in what we are doing, with whom, where, and how.
THC: How can we — as you say — tell better stories to ourselves about ourselves?
MH: Stop telling the same stories of past pain the same way. Tell your ugly stories of betrayal, failure, and pain in ways that stand for something good and lean toward something beautiful. Find a narrative or folkloric hero whose story you connect with. Then, find yourself in that person's story and stand strong in the principles that person stood for.
THC: How can people find work they love, or love the work they are currently doing?
MH: Remember that comfort is the enemy of creativity, and comfort is not all that comfortable.
Marlon Hall is the co-author of Wake Up: Hip Hop Christianity and the Black Church.
Feeling the Love at Work
This article appears as part of a series at The High Calling, called, Feeling the Love at Work. By work, we mean, wherever it is you find yourself in your days. The carpool lane. The church. The board room. The fast food fryer. The museum curator. The blogger. The nurse, teacher, doctor, lawyer. The stay-at-home dad. Some of us are finding our way toward our dream job, and others are wondering if our work really matters at all. What is it like to work in a job you love and, how might your work impact your affections in the other areas of life? Maybe you know someone who's asking these very same questions. If so, consider sharing these stories with them, via email, Facebook, Twitter, or through your other social media and friendship networks.