How to Work Like a Genius
Blog / Produced by The High Calling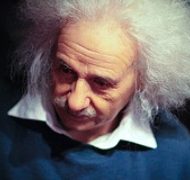 I walked into the dining room and gasped. Oh my, what a two-year-old can do in a brief space of time! While I'd been chopping, frying, and boiling, she'd been stringing, draping, and wrapping. The room looked like some kind of Picasso-bent spider had sneaked in to claim an opportunity at artistic re-engineering.
In the years since that messy dining room day, I've done my share of ill-parenting. But if there's one thing I think I may have gotten right, it's the issue of providing space—both physical and mental, for my daughters to be and do, create and laze, explore and abandon.
Sometimes I've doubted my methods. And as a home educator I've felt particularly pressured at times to prove that I'm not squandering my kids' days. In answer to these pressures, I'm often heartened by my daughters' creativity, but I admit that sometimes it's nice to hear from the outside too— that space matters.
As Christians, we've got the example of our very Creator and the work-Sabbath cycle that suggests the mysterious power of space. Also, right now I'm reading a whole book about innovation, that claims the best ideas originate from and depend on space. In the first chapter, the author quotes Lao Tzu...
Thirty spokes share the wheel's hub,
it is the centre hole that makes it useful.
Shape clay into a vessel,
it is the space within that makes it useful...

(quoted in In Pursuit of Elegance: Why the Best Ideas Have Something Missing)
Einstein, who developed some of the best ideas, also understood the power of space. Rather than spend his days solely dedicated to physics, he actively made space in his life for other ways of being and thinking. Ken Robinson, in his book on creativity, notes that it wasn't unusual for Einstein to put aside his theorizing to play the violin or interview poets (Einstein was fascinated by how imagination works and thought that poets could lead him to understand it better).
Maybe we're afraid to give ourselves a little space. It can get messy, like my daughter's dining-room web. It doesn't always seem "applicable," like Einstein's violin or his fascination with the poetic mind. Perhaps space seems wasteful or indulgent.
Still, we could experiment. Give space a chance. Why not... work like a genius?
Image by Pure9. Used with permission via Flickr. Post by L.L. Barkat, author of God in the Yard: Spiritual Practice for the Rest of Us.

"Most of the material on The High Calling is available for reuse under a Creative Commons 3.0 license. Unfortunately, work by Laura Barkat is not available for reuse. If you are interested in reprinting work by Laura Barkat, please contact her directly."