I Eat with My Eyes
Blog / Produced by The High Calling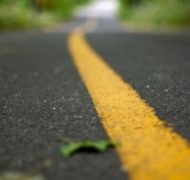 I drive with the windows down and the air conditioning on. The sun burns through the windshield but it is not enough to be cool--I must let the breeze ripple my hair, feel the wildness of strands licking face. I have the music loud-- it fills the air around me, drifts out and spills onto the road I leave behind. I remember this—this wild abandon. Running away from home. A windblown reckless feeling. Music soothing raw emotions. But this is different. A happy running away. A running to. this gray ribbon wraps around me; cradles me close in her bands of tangles and bows. powder blue heads of chicory stand erect— intertwined with lacy faces of queen Anne--sentinels of this highway. a lonely cow peers through doleful eyes, lows softly in my wake. I drive on.
When I drive, the places I pass become mythical memories…vibrant colors, quaint villages, loquacious livestock. My imagination soars. Julia Cameron understands.
I am very aware that the art of writing devours images and that if I am going to write deeply, frequently, and well, I must keep my inner pond of images very well stocked. When I want to restock my images, I get behind the wheel of my car.
My everyday images lose their luster in the ho-hum drudgery of life. Sometimes beauty can be better seen from a few paces back…or through an open window, driving by. Loping hills and grassy meadows stir my appetite for words. Rich sunsets create a poetry all their own.
…As a writer, I eat with my eyes, and that sumptuous sunset sated my appetite. Today I am hungry to write.
Next week in our book club discussion of The Right to Write: An Invitation and Initiation into the Writing Life, we explore Roots, ESP, and Cheap Tricks. See you on the page!
Related posts: Lyla's
Sound and Fury
Erin's
Fighting the Writing Monsters
ELK's
Random Sight
Nancy's
Music Everywhere
Cassandra's
Sound
Marilyn's
The Real Reason for Highway Rest Stops
Glynn's
Writing, Music and Airplanes to San Fransisco
L.L.'s
Dancing on Spec
and
Driving into Words
Photo Afternoon Drive by Matt, used with permission. Post by Laura Boggess.