I'm with the Band
Blog / Produced by The High Calling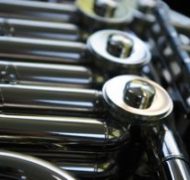 I could have said no.

But I have trouble refusing church ladies like Trish. They're the kind whose persuasive acts make you wonder if arm-twisting is a spiritual gift. They could talk you into delivering Sunday's sermon in a pinch.

Trish had called, looking for musicians. And before I could eek out a simple word – NO – I gushed: "Yes! Of course!"

A few days later, she brought a French horn to our house, along with a trumpet. I had ... um ... volunteered my husband, too. I agreed that both of us could play in a brass quintet at our country church's Christmas Eve service.

Never mind that neither my husband nor I have played brass in 20 years. I would need to Google-search "French horn fingerings" to refresh my memory.

Like I said, I could have said no.

But Trish was convincing. She helped me believe we might be part of a magical moment.

Plus, I really wanted to say yes. As I grow older, my inner adventurer tells me to live life more fully, more courageously. Besides, my husband and I regularly encourage our girls to try new things – like piano or cartwheels or sushi. This world – a gift to mortals – is fertile ground for playful, daring hearts.

If I scroll back through my life, I find that age has blocked my playfulness. I have settled. Maybe it's because I've felt the sting of disapproval and self-doubt too many times. I don't want someone to laugh at me.

If we're not careful, we could stop trying anything that seems scary or dangerous – like having babies. Or knitting.

It was in this spirit of adventure that my husband and I picked up brass instruments in our living-room auditorium for the first time in 20 years.

In a burst of musical bravado, we began to play while our two daughters sat cross-legged on the floor.

My mind danced with daydreams of a future with the Royal Philharmonic Orchestra – or at least a spot in the high school concert band. We finished the song. I lowered my horn, looking to our miniature music critics for assurance.

One daughter scrunched her nose. The other asked: "Are you sure that's the way it was supposed to sound?"

True, we sounded more like sick elephants than a brass duet. But we had time to practice.

The night of our performance came a week later. The pastor had instructed us to play our song two times through. With forty-two sets of eyes on us, we lifted borrowed horns to our lips at Trish's cue. The first strains of "The First Noel" filled the sanctuary.

And behold, we sounded like a real band. Yes, I did hit at least one wrong note, and I lost my breath midway. After one verse, we lowered our horns. Between bursts of laughter, we decided one verse was plenty.

Maybe it was the spirit of the season, but our audience broke into applause. I think I even heard a few cheers.

Afterward, Trish said we ought to play on Easter morning. I might just say yes.

Unless, of course, the Royal Philharmonic calls first.

Image by Marissa Garza, used with permission via Flickr. Post by Jennifer Dukes Lee.