Inspire and Coach Young Professionals Through Social Media
Blog / Produced by The High Calling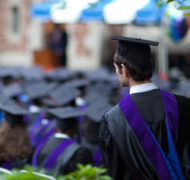 Young adults today face the most difficult economy we've seen in nearly a century. According to a 2012 study, 82% of adults say it is harder for young people to find work. Paul Taylor, executive VP at Pew Research, says, "We have the highest levels of youth unemployment and under-employment than we've seen since the government started tracking such data."
In fact, the job market is so bleak for young people, it is changing our definition of the middle class. Twenty years ago, being in the middle class meant you owned your own home. Today it simply means you have a secure job.
The High Calling wants to help young professionals and college graduates succeed in the face of these challenges, but we need your help to do it.
A Simple Way You Can Help Young Professionals
First, to demonstrate our commitment to this need, The High Calling will be launching our brand new young professionals section at Jubilee in February. This will mark our first new content channel in over two years. We're talking with several potential editors about leading the new section, and we're already beginning to aggregate content specifically designed to meet the needs of young professionals.
You can help this effort by sharing articles and videos with young professionals in your area. Send them a link. Tell them why you are sharing the article or video with them. Reach out. Make it personal.
Consider sharing one of these articles that young professionals have already identified as useful resources on The High Calling:
A Deeper Way You Can Help Young Professionals
The High Calling has never been satisfied merely to be a creator of content. That's why we have also completely overhauled our user profile system. If you are passionate about the integration of faith and work, if you believe your work matters to God, if you believe daily work can be a high calling, we invite you to make yourself available to young professionals through our site.
Connect your Twitter or Facebook accounts (or even your email address) to this site so young professionals on The High Calling can find you easily.
A simple response via email, Facebook, or Twitter won't take much of your time, and it can be a world of encouragement to a young person trying to navigate his or her chosen profession in a way that honors God. Share your expertise and experience. Help the next generation of Christians looking to serve God through their work.
Don't be afraid. You shouldn't expect to be flooded with requests and questions, and you can hide your contact information at any time. Besides, we're taking things slow, starting with our Jubilee sponsorship when we will talk to individual college students about how they can serve God through their chosen profession.
During the next few weeks, we are looking for 50 readers on The High Calling to step up and make themselves available to young professionals via social media.
Won't you prayerfully consider opening yourself to young professionals as they enter the workforce?
5 Steps to Becoming a High Calling Coach
Pray about it. Ask yourself if you are passionate about the integration of faith and work, if you believe your work matters to God, if you believe daily work can be a high calling. Consider your motives and your availability.
Log in to your account. In the upper right hand corner, click on "SIGN UP OR LOGIN." Then go to the upper right hand corner again and click on "MY ACCOUNT."
Update your professional information. Click on the pencil icon next to your name to complete the new options on your user profile. Add your title, job, and profession.
Connect your social accounts. Click on the pencil icon next to "Connect," and connect your Twitter or Facebook accounts.
Edit your privacy settings. Click on the pencil icon next to "Privacy Settings" and choose how others can contact you by changing those elements from "Hidden" to "Visible."
After you've updated your profile, email us at [email protected] to let us know you are interested. Use the subject line "High Calling Coaches" to help us catch your messages more easily.
You can also help us get the word out by sharing about this effort on your blog or on Facebook or Twitter. You might post something like this: "I'm reminding young professionals that work is holy - via @thehighcalling".
Feature Image by Jens Schott Knudsen. Used with permission. Sourced via Flickr.