It's Payback Time
Daily Reflection / Produced by The High Calling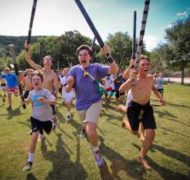 O Lord, pay back our neighbors seven times for the scorn they have hurled at you.
Psalm 79:12
I must confess to having watched a fair share of action movies throughout the years. There's a boyish part of me that enjoys sword fights, explosions, and heroes who overcome hopeless odds. Perhaps one of the most familiar motifs in action films is revenge. The hero is captured, abused, beaten, and otherwise treated poorly. But, just when it seems that all is lost, he manages to escape. Soon, it's payback time. The bad guys get what is coming to them from the one they once mistreated. Moviegoers cheer to see justice done, with a generous helping of revenge added.

The writer of Psalm 79 envisions God's future activity along the lines of an action movie. In this case, the bad guys are the nations who have conquered Israel, defiling God's temple, destroying Jerusalem, and slaughtering her people. Yet the Israelites will not pay back those who have scorned them. Rather, Psalm 79 calls out for God to be the hero who pours out his wrath on the nations and saves his people.

In time, God did, indeed, pour out his wrath and save his people, but in a most surprising way. He poured out his wrath on the sin of all humanity by bearing it on the cross. To those who had scorned him, he offered forgiveness. Thus, he sought to save, not just the children of Israel, but all people.

God's ultimate payback is not the stuff of blockbuster action flicks. It does not satisfy our desire for revenge. But it does satisfy the deepest longings of our hearts: for forgiveness, for salvation, and for an intimate relationship with the God of justice and mercy. Because God took upon himself the payback we deserved, we can live as citizens of his kingdom, indeed, as his beloved children.

QUESTIONS FOR FURTHER REFLECTION: When you read Psalm 79, what thoughts or feelings come to mind? Can you relate to the yearning of the psalmist? How do you respond to the God who offers the ironic payback of the cross?
PRAYER: Gracious God, thank you for expressing your justice through mercy. Thank you for taking upon yourself the payback that I deserve. Thank you for saving me from my sin. Thank you for adding me as one of the sheep of your pasture.

Because of your astounding salvation, I offer thanks, joining the chorus of those who are "praising your greatness from generation to generation." How great is your mercy! How great is your salvation! How great is your love! Amen.

Image courtesy of Laity Lodge Youth Camp, one of our sister programs in the Foundations for Laity Renewal.