I've Got a Secret
Daily Reflection / Produced by The High Calling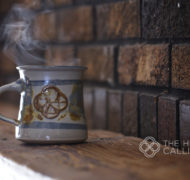 But let me reveal to you a wonderful secret. We will not all die, but we will all be transformed!
1 Corinthians 15:51
If you're as old as I am, you might remember the television program called I've Got a Secret. It was one of my favorites when I was a boy. The premise for the show was simple. A special guest with a "secret" would be interviewed by a panel of celebrities who tried, by asking several questions, to guess the "secret." Inevitably, when the "secret" was revealed, either by the panelists' guesses or by the guest if the panelists failed, it was something funny and unexpected.

If he had lived in a different day, the Apostle Paul might have appeared on I've Got a Secret. Yet his secret was not funny, though it was certainly unexpected, especially in the Greco-Roman world. Paul's secret was that "We will not all die, but will all be transformed!" (15:51). At an undetermined time in the future, both the dead and the living would be raised with transformed, immortal bodies (15:52-53). In that day, death will be "swallowed up in victory," the victory won by Christ through his death and resurrection (15:54).

I've Got a Secret worked because the guests were willing to reveal their secrets to the world, making them secret no more. It would have been rather a dud if secrets not guessed by the panel remained under wraps. Similarly, Paul's apostolic ministry worked because he was not just willing, but eager, to reveal the secret God had entrusted to him. He wanted everyone to know what God had done in Christ and to have confident hope in their own future destiny. As difficult as it is to have mortal bodies, and as painful as it is to live in a world marked by death, we can have hope because God raised Jesus from the dead . . . and he will raise us also.

QUESTIONS FOR FURTHER REFLECTION: Have you ever had a secret that was fun to share with others? What was it? How do you feel about sharing the "secret" of the good news of our hope in Christ?
PRAYER: Thank you, dear Lord, for the revelation of the "secret" of my future resurrection. The time will come when my body will be transformed. The sin that drags me down will have been defeated. I will be fully the person you have created me to be.

May this hope give me conviction, Lord, to live each day for you. When I feel my mortality, when I give way to sin, when I struggle with discouragement, may I hold on to the "secret" of my future in you.

Help me, dear Lord, to share Paul's enthusiasm for giving away the "secret" of our future in you. In my words and deeds, may I communicate the hope of the resurrection. Amen.