It's Memorial Service
Daily Reflection / Produced by The High Calling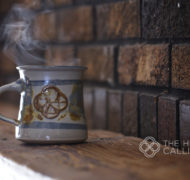 When they arrived at the threshing floor of Atad, near the Jordan River, they held a very great and solemn memorial service, with a seven-day period of mourning for Joseph's father.
Genesis 50:10
When Jacob died, Joseph heeded his father's request, returning his body to Canaan to be buried. When they arrived at the burial site, they had an extended time of grieving the death of Jacob.

Grief over the loss of a loved one is natural and human. When I officiate at memorial services, I always encourage people to feel free to express their sadness in ways that are appropriate for them. For some, such expression comes in the form of tears. For others, mourning leads to silence.

But Christian memorial services are not only a time for sorrow. The promise of life beyond this life gives us hope. As Paul wrote to the Thessalonians: "And now, dear brothers and sisters, we want you to know what will happen to the believers who have died so you will not grieve like people who have no hope" (1 Thess. 4:13). Notice, Paul does not say "Don't grieve at all." Rather, he urges us not to grieve in a hopeless manner. Even in our very human and appropriate sadness, we have hope of eternal life. Thus memorial services are, in the words of Ecclesiastes, "A time to cry and a time to laugh; a time to grieve and a time to dance" (Eccl. 3:4).

When people in our lives lose loved ones, we can help them, paradoxically, by giving them the freedom to grieve and, when appropriate, reminding them of their hope in Christ. Most of all, we can be with them in the confusing mix of emotions that come when a loved one dies. Our presence and sympathy will mean even more than our words.

QUESTIONS FOR REFLECTION: How do you respond when people around you are grieving the loss of a loved one? How have you dealt with this sort of grief in your own life? How can we experience hopeful grieving?
PRAYER: Dear Lord, as I read the story of Jacob's memorial service, I think of how hard it would be to grieve without the hope we have in Christ. When those we love die, we still feel sad, sometimes almost unbearably sad. But with this sadness there is an abiding hope, the hope of life beyond life.

Help us, Lord, to grieve not as the people who have no hope. May our sorrow be saturated with the hope that comes from you alone.

And as we reach out to others who are grieving, help us not to pressure them to feel better. Give us the grace to be with them, to hurt with them, and to find just the right ways to remind them of our hope in Christ. May we be channels of your love and comfort to those who grieve. Amen.