To Japan, and Our Children, with Love
Blog / Produced by The High Calling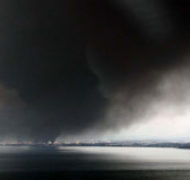 On Friday, the earthquake hit Japan. I was probably drinking a cup of tea when it happened. It is my afternoon habit. The terror of earth opening, sea slamming, nuclear plants threatening meltdown, seemed too much to tell my children.
By Sunday I feared they would hear it from someone else, so I determined I must tell them— if not all, then some of the news.
Emily Dickinson once counseled that if we need to tell an overwhelming truth, we can tell it slant, to somehow mediate what might otherwise crush us. There is no one to mediate for the children of Japan, but I knew that in my world, where the sun was still shining, and the trees were still in place, I needed to fashion the truth into something that could be touched, at least in part.
So I pictured an item impossibly small. A pearl button. I pictured a man searching for someone he loved. I tried to put the tragedy into a poem, with the button, and the man. Because, in my experience, poems can somehow hold what our hearts cannot even begin to hold, or fathom.
And, in the end, this was how I told my children about Japan. At ages eleven and thirteen, they are still more tender than one might expect, but they are old enough to turn to a poem for the news. Perhaps you feel the same...
The News, March 2011
I found a button,
mother-of-pearl.
It was sitting like the last star
in a mangled universe,
where dreams
and all our brilliance
were melting a hole
into the earth
and invisible dust
kept falling, falling
out and over
day, night, history.
I picked it up—
the button—
and thought of your
smooth neck,
curved as a shell
and just as delicate;
I thought of thin white cotton,
a blouse to touch
and a line of empty buttonholes.
Then I knew
that the sea must have taken it
from you,
this mother-of-pearl, this last star,
and I wished for a silver needle
and a virgin spool
of silken
white
thread.
After the telling comes the action. Watch for an article later this week, on how you can help respond to the needs of Japan. And thank you for being a community of love.
Image AP Photo/Kyodo News. Used with permission via Flickr. Post by L.L. Barkat.

"Most of the material on The High Calling is available for reuse under a Creative Commons 3.0 license. Unfortunately, work by Laura Barkat is not available for reuse. If you are interested in reprinting work by Laura Barkat, please contact her directly."