Japan: Together We Stand
Blog / Produced by The High Calling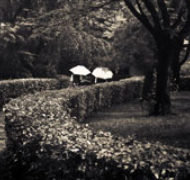 I sat in the tiny hospital room holding my almost-one-year-old squirmy girl, settling into our twelfth hour of visitation in two days. My mother-in-law slept as the latest round of pain medication eased the discomfort from her knee replacement surgery.
I felt alone.
My husband and I are in our mid-thirties with two young children not yet in school. No one in our life stage is caring for aging parents yet, and especially not without help from the other parent or siblings (or some other family member). Even the resources I've found online are targeted at those who are caring for aging parent and grandchildren.
We have felt alone.
When our world is shaken, when we feel like we're drowning, when we're stranded, when we're face-to-face with death . . . what we're often most afraid of is being alone. Walking through the difficulties of life alongside someone can make the difference between getting stuck and making it through.
In the wake of an earth-bending tragedy like the disaster in Japan or the devastation of a diagnosis of a loved one or the deep wounds of unkind words, we know that Jesus understands and enters into all of those emotions with us. He has experienced these things and has chosen to stand with us.
As He has stood with us, would you consider standing with the people of Japan, to remind them they are not alone? I can tell you from my own experience with hardship and fear, it means so much to know someone is willing to come alongside you.
What You Can Do
1. Support those in your community who may have loved-ones who are affected by the earthquake and tsunami. Take a meal, write a note, give them a call, pray. It's okay if you don't have all the "right" words.
2. Go to Charity Navigator: Your Guide to Intelligent Giving for helpful information such as why giving money is better than sending goods, what kinds of charities to avoid, why you should designate your giving, and how to navigate social media avenues. The article also rates charities, on their record with massive-scale disaster relief and their past experience with Japan and similar regions.
3. Check out Japan Earthquake: 7 High-Tech Ways to Help. This site gets you involved through the doorway of social media. Note that the charities it supports aren't all rated 5-star by Charity Navigator. However, if it helps you act more than you otherwise would, it's probably worth a click (or a hundred
.
4. One of our top staff picks for donations was World Vision. It is also happens to be rated 5-star by Charity Navigator. But in the end, you might consider what kinds of giving are closest to your heart and use that as a basis for your decision.
Image by Andrew (Cuba Gallery). Used with permission via Flickr. Post by Tina Howard, Editor for Laity Lodge Family Camp.