Jubilee: What Does Jesus Have to Do With Work?
Blog / Produced by The High Calling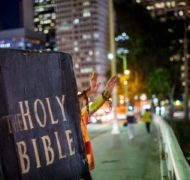 Nothing teaches theology quite like "The Jesus Picture Show." So I often show one to my theology classes, including a range of Jesus images from early Christian icons to contemporary T-shirts that proclaim "Jesus is My Homeboy." It is a fun exercise, but it has a serious point. Our images of Jesus reveal a lot about how we connect Jesus to our lives. Traditional images can make Jesus feel sovereign, but very distant. Contemporary images can feel more approachable, but less dignified. The pictures we construct of Jesus in image and word have significant implications for how we think about the lives we pursue as Christians. Whatever we think, Jesus is our savior who brings significance to every area of life, including the numerous hours each week that we call our work.
The incarnation is an echo of Genesis 1:31. Creation is very good, and so Jesus came to us as a human being, not as an angel, not as a hologram. The "incarnation" means Jesus is God in the flesh. Christ was born a human like us, suffered in the flesh, and was resurrected in a body. Human life is the pinnacle of God's creation, and Christ enters into his creation, as if God is saying, "I meant what I said when I first made this creation. It is very good. It is mine. And I am going to save it."
Creation may have experienced a Fall, but it remains very good.
And not only that. What God made is good, but how it is designed to operate is also good. We are part of that design when we allow Christ's incarnation to enter our work.
Christ's incarnation also brings salvation. And this has important implications for our work. For years, I understood salvation as the great news of the forgiveness of my sins and a reservation for eternal life, but indeed there is more. The work of Christ in salvation shows us that redemption is connected to creation.
Redemption is not an escape from creation.
Sin's effect on the world can tempt us to think of "this life" as an exercise in drudgery. Some Christians are waiting for God to bring everything to an end and take us to a nicer realm on the other side. Instead, Christ's salvation is how God reclaims his creation rather than destroy it. Salvation is not an exit strategy. Redemption does not rescue us from this world.
Paul tells us that we are a new creation because we are in Christ (2 Cor. 5:17). This means, in part, that we are participating in God's renewal of creation. We are already renewed persons working in a world that God is actively renewing. Christ is a savior who has come to transform the world, and that includes the world of work. Everything is being reoriented to its proper purpose. This is what salvation means.
Jesus calls us to follow him and to be witnesses who proclaim his kingdom. Since he affirms the goodness of our lives as humans, being a witness means more than evangelism. We certainly need to consider how to introduce others to Jesus, including those in the world of our work. Yet for many people, this may not be possible. Those who can't share their faith openly at work might feel like undercover Christians in their jobs. Even so, their attitudes, actions, and contributions can bring transformation to their workplaces, flowing from a savior who came to transform the world. Jesus urges us to let our light shine in Matthew 5:16. Our work itself can be a kind of light. Can you imagine what it would mean for Christ's followers to be known as the people who are the leaders in creativity and innovation in the workplace?
_____________________________
Jubilee: Everything Matters
For the past seven years, The High Calling has supported the Jubilee Conference, an annual gathering of thousands of college students learning how to worship God with their whole lives. Whether a person is interested in engineering and science or art and music, law and politics or medicine and mission, justice and families or college life and the years to come, Jubilee has someone speaking about what it means to be involved in those places faithfully. This week, The High Calling offers a special collection of articles, videos, and reflections to serve the students and campus ministers who attended Jubilee. Join the Jubilee and learn how to worship God with your whole life.
Featured image by Eric Demarcq. Used with Permission. Sourced via Flickr. What Does Jesus Have to Do With Work graphic from the Jubilee 2015 conference booklet sponsored by The High Calling.