Leadership Influence: One Thing I Learned about Leadership
Blog / Produced by The High Calling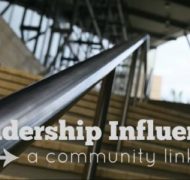 My senior year of college I was named as editor of the student newspaper. I couldn't believe it. I would oversee about 70 to 80 other students and the five-day production of the newspaper.
I didn't sleep much that year. I dreamed of horrible things happening: that we'd print a blank front page, that we'd misspell the university president's name, that I'd fail.
I prayed every day on my way to the office. I remember waiting for the train to pass, sitting in my idling truck, saying, "Dear God, please give me the discernment and skill to make decisions tonight. Help the staff put out a paper that glorifies you. Thank you for this opportunity to serve my school."
On really rough nights when half the editors were out sick or our main story fell through, I went home at dinner and prayed again. That one went more like this: "Dear Lord, I need you to hold it down for me. Because I need to hold it down for them. It's in your hands."
At the end of the night, when I'd walk out the door and the clock tower would chime 15 minutes before midnight, I'd pray again, "OK, God. Thank you. But let's not do that again."
I made so many mistakes that year. There are a million things I could have done better, but here's what I learned about leadership that year: It starts with Christ.
In the week before my senior year started, I attended a leadership conference with about 50 other student leaders. In the first morning at the camp, I woke up early because I couldn't sleep. I was uneasy bunking with strangers and staying at a campsite. I walked down a gravel path toward the lake to get some air when I saw four of five other students spread out around the lake, barefoot. They were reading their Bibles and praying.
I will never forget that picture of a handful of student leaders starting their day off with the Lord, and I carried it with me.
We won an award for our paper that year, but none of that is a testament to my leadership.
I was a nervous wreck.
I was broken.
I was the last person to lead, and the only reason I did so was because of Christ.
Paul writes in 2 Corinthians: "But he said to me, 'My grace is sufficient for you, for my power is made perfect in weakness.' Therefore I will boast all the more gladly about my weaknesses, so that Christ's power may rest on me."
In a meeting with another student leader at the end of the year, he confessed he never picked up the newspaper until that year. My goal had been to make the paper more relevant and more accurate and we changed the culture of that paper.
However, we didn't change the paper because of my deadlines or my meetings or my pep talks. We did it because God showed up in my weakness in those black and white pages. Every day.
___________________________________
A journalist by trade, newlywed Amanda Casanova blogs about faith and relationships and is a contributing writer for The Faith News and Whole Magazine. Find her on Twitter at @acasanova10 and her website at http://tx.ag/casanova.
Amanda submitted this piece, which originally appeared on her blog, as part of a link-up on Leadership Influence: Beyond the Stereotype.
___________________________________
Leadership Influence: Beyond the Stereotype
When we think of "leadership" or "influence," we often get the image of a person of arrogant swagger, always self-confidently willing to tell people what they ought to do. And we naturally find such an image unseemly. This is not the image of Jesus, the most influential person who walked the planet. Neither is it the image of those we truly admire and can name were the most influential people in our own lives. In this series at The High Calling, Leadership Influence: Beyond the Stereotype, we feature stories of how people can be influential in ways that really matter.
Photo by Tim Miller. Used by permission. Photo design by Jennifer Dukes Lee.