Leanard LaRue
Audio / Produced by The High Calling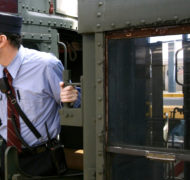 Transcript
In late 1950, a 60-passenger freighter answered the call to a North Korean port. Ninety thousand civilians were there fleeing a Communist attack. Fourteen thousand refugees streamed on board and crammed into the freighter's narrow cargo holds. But not one refugee died. Officials called it "the greatest rescue by a single ship in the annals of the sea."
The freighter's Captain LaRue later explained his victory, "On Christmastide, in the bleak and bitter waters off the shores of Korea, God's own hand was at the helm of my ship."
This is Howard Butt, Jr., of Laity Lodge. Captain LaRue's rescue was dramatic, but God is no less present at the helm of your workday. That's why we call it the high calling of our daily work.
Guard my life and rescue me; let me not be put to shame, for I take refuge in you.