Leaving a Trail
Blog / Produced by The High Calling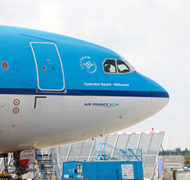 They call me the trailing spouse, the one-half of a marriage who gives up her comfortable life to follow her breadwinning husband and his new job posting overseas.
Three years ago, I gave up everything—my family, my friends, and the home we remodeled with our own blistered and calloused hands. I gave up my Saturday morning run and the local library stacked high with English books. I gave up the swing-set where my three kids learned to pump their legs and fly, feet first, to the sky. I said goodbye to my community of faith and Panera Bread and the weekly sales at Target. I watched men pack up all my possessions in brown cardboard boxes, bound for a foreign land.
The truth is, I wanted to go. I wanted to see more of the world, push against my boundaries, and confront my fears. The children and I trailed my husband with excitement for the adventures that lay ahead. We moved to Switzerland, and we threw ourselves at European life in the hopes it would catch us in an open embrace. We traveled to countless cities in Europe, and the history of the world came alive as we walked their ancient streets. We sampled new foods, eavesdropped on foreign languages, and discovered that a smile means the same thing regardless of your country of origin—as do a number of questionable hand gestures.
My husband sandwiched our travels between his busy schedule of work and graduate school, and so the kids and I were left to discover community on our own. I found it by looking for other families trailing behind too. In no time, we cultivated a community—a hodge-podge of international families thrown together by happenstance and a common spoken language. In the absence of relatives and dear friends, these families adopted us as their own. When a new family arrived, we returned the favor. We laughed together over cultural faux pas, and we cried together over long-distance losses. We relied on each other for travel tips, a listening ear, contraband cans of Lysol spray, or a ride home from the ER at midnight.
As a writer, my work never suffered. Rather, it grew with each new experience, and I used my pen to capture every detail. I caught words from the old men singing songs on a Venetian pier. I caught the sun rising from behind the mountains, and the fierce look in my son's eyes at the top of a ski slope he hoped to conquer. This world and its beauty, its art and song and whirling dance, crossed all of my internal borders, and helped me see my piece in the whole.
This summer, I will trail once again. I will follow my husband and his new job back to the United States. He will return to the familiarity of work, and I will return to the seemingly unaltered: to my friends and my church and my favorite weekly sales—but I, I am forever changed. It's time for me to leave a trail of my own.