Lego Lessons on Parenting (and Leadership)
Blog / Produced by The High Calling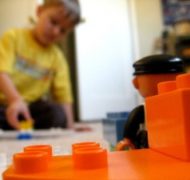 "Yes, son," I concede, "the Taj Mahal is probably the coolest Lego set ever constructed." "Or the Death Star. That's cool too." "Or the Death Star," I agree flipping through the two books required to turn our pile of bricks into a comparatively simple Lego house. He left the sorting to me and drummed his hands against his knees. Grandma bought this Lego set, just like my son asked. But now his five-year-old self faced an architectural feat that was rated one of the best toys of the year… for kids twice his age. (For the record, he also wants the Lego Mindstorms robot set aimed at kids two-and-a-half times his age and costing more than our grocery budget. Even Grandma has her limits.) Looking at the piles and the instruction books and the expectant boy sitting before me with his legs crossed, I wasn't sure where to start. How best to play with this toy? Clearly my boy needed Dad's help, but I didn't want to play
for him
. The joy of Legos is as much about the building as the story play. This is free play at its best—with all of the challenges that freedom brings. My son's dreams of
Taj Mahals
and
Death Stars
are limited by his fine motor skills. And his patience. And my salary. And the instruction booklet we have which will make a small house. And the available bricks which will make many things, including a small house. "Dad," he said suddenly. "We should get the Taj Mahal
and
the Death Star." That launched me into a math lesson involving allowance, savings accounts, and the numbers of weeks and years necessary for small numbers to become big numbers. I even threw in a short lecture on the importance of enjoying gifts that are right in front of us. By the time I was finished, he had opened the instruction book to step one and was working away. So I supervised. Pretty quickly, we settled into a rhythm. Dad sifted through piles of bricks for the pieces, and son assembled the pieces into a house. "It never looks like the picture at first," he mumbled, frustrated with the number of steps necessary for the foundation and the framing. In all, the project took us three days. Many times throughout, I watched my son do a step wrong. A brick would be oriented incorrectly, or he would forget a few pieces. At first, I jumped in. "Take a closer look at that one," I'd say. Sometimes I'd even point to the picture, placing my finger on his error. I couldn't believe how much I wanted to fix the mistakes as they happened. In fact, I didn't want my son to make any mistakes at all. The instructions were clear. Follow them. A few times, I jumped the gun and assembled a step, my rough hands impatiently dropping bricks around his small ones. He didn't seem to mind this, but I did. What was wrong with me? What kind of strange micro-management beast was being awakened by these Legos? In my son's mind, we didn't have any assigned roles. I wasn't the supervisor. He wasn't the foreman. We didn't need to negotiate any power structures. We were just playing. In my mind, we had to orient ourselves to the task. We had to jockey for power and plan how we would work together. Somehow, in my mind, we weren't playing. We were
working
. Tom Wujec explains that adults often function this way in his must-see TED talk,
Build a tower, build a team
. Every project requires a plan, a build-out, and a moment of celebration at the end. In the TED video, teams of MBA graduates, CEOs, lawyers, and kindergartners build towers of spaghetti and marshmallows. My son and I were building Legos. We still build Legos together, but he's becoming more and more of an adept builder. Ask him what he wants to be when he grows up, and he won't hesitate: "An engineer. A
Lego
engineer." And for him this means his work would be play. Why is that so hard for me to understand? In some sense, I'm already very playful in my work.
Dan Roloff
and I are a couple of cut-ups together.
L. L. Barkat
and
Gordon Atkinson
and the
rest of the network editors
are some of my best friends as much as they are coworkers. Heck, I even pause at work to take ridiculous pictures of
table saw editorial techniques
or
toilet performance reviews
. But somehow, work and play have gotten mixed up in my head so that I have trouble playing with my son without thinking of it as my duty in the work of parenting. Maybe that's just part of being an adult. Maybe that's why Peter Pan refused to grow up. Or maybe that's what Jesus was talking about when he says "…unless you change and become like little children, you will never enter the kingdom of heaven." Little kids don't really jockey for power like adults do. At their best, at their most humble, they accept their place in the world and in the moment. Maybe adults could learn to lose ourselves in the moment, too—whether we're telling stories, building Legos, or assembling spaghetti towers.
Father's Day Community Writing Project
Last week
we proposed a community writing project
, asking people to write a dad-themed poem or vignette of about 500 words. Follow the links below to discover the variety of ways these bloggers explored the topic of fathers.
If your link was left off the list, drop it in the comments to this post. We'll add it as soon as possible.
"Ben Time" photo available from Flickr under a Creative Commons license. Post by Marcus Goodyear.