The Lenten Satchel
Blog / Produced by The High Calling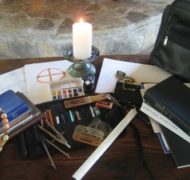 Being raised Baptist, I am somewhat new to Lent. My church and I began observing this season in earnest about ten years ago. My first Lenten experiences mostly involved classic spirituality by subtraction – giving things up for Lent. This is a good thing to do. After all, Jesus gave up food and comforts when he entered the desert for forty days. I don't want to be overly simplistic, but if it's good enough for Jesus, it's probably good enough for me. So my Lenten journey always involves giving up some comforts. This year is no exception, but this year I am doing something different as well.
Lent 2010 marks a major change in my life. I resigned from my position as pastor of Covenant Baptist Church in February, just before Lent began. For the first time I am not involved in guiding or leading others in this season. For the first time, I am free to design my own spiritual program. To be fair, I was always free to do that. But as a pastor, I foolishly allowed the busy-ness of planning Lent for others to use up all of my energy. So Lent 2010 is an indulgent season for me. This year my life matters. This year I am paying attention to the state of my own soul and trying not to pay attention to how others are dealing with Lent. The day before Ash Wednesday, I got an old satchel out of my closet and began filling it with things that are spiritually significant to me. Some of these things might be considered "churchy" and others might not. I make no such distinctions. Everything in my satchel has been an important part of opening my mind, expanding my heart, and teaching me to be more prayerful and able to listen for God's work and words in our world. My Lenten satchel contains the following items:
A copy of the Didache with commentary by Tony Jones.
The Creation of Consciousness: Jung's Myth for Modern Man by Edward Edinger
The Greek New Testament, along with a parsing guide.
A moleskine notebook that contains my new and growing translation of the Sermon on the Mount.
A set of calligraphy pens and a bottle of luxurious black Mont Blanc ink.
A set of drafting tools that I bought in a junk store in Colorado.
Some proofs by Euclid that I learned and drew myself with the drafting tools.
A copy of Inside Out, poems by LL Barkat.
A recorded copy of the New Testament, read dramatically.
Another moleskin notebook that contains my first attempts at calligraphy and my drawings of the negative spaces of labyrinths.
A vision I wrote down for a house church model in 1999.
A dream I had years ago, wrote down, and still don't understand.
My growing Franciscan rule of life that I've been working on in retreats for a few years. (So far I only have one rule and I still can't keep it well)
Three rosaries, all of my own construction.
The National Audubon Society field guide to the night sky.
The complete short stories of Flannery O'Connor.
A set of water colors.
I could tell you why each of these things is important to me, but this essay would then stretch out to 14,000 words and no one would read it. It is enough to say that every one of these things represents a passion of mine through which I believe God has spoken to me over the years. I also love these objects deeply, both for their beauty and for their unique meaning to me.
During the season of Lent, I take time each day to do something spiritual. I draw proofs and paint them. I work my rosary beads, murmuring memorized prayers and scriptures. I read fiction. I read poetry. I read the Didache. I read the New Testament – albeit in a very slow and halting way – in the original language. I paint. I muse. I write. I pray. And I seek creative connections between all of the things in my satchel. A few days ago Euclid's "how to find the center of a given circle" proof turned into a cross and that into a watercolor painting. I do not have to finish anything. I do not have to explain anything. I do not have any goals other than spending a bit of time each day with one or more of these objects. It is the most glorious, challenging, thoughtful, indulgent, artistic, and meaningful Lent I have ever experienced. And I intend to keep my satchel after Lent is over. Why would I stop when I'm having such a good time?
I highly recommend you putting together your own spiritual satchel. Carry it with you everywhere. Engage God with great passion and love by engaging the ways that God has spoken to you. Be on the journey. Be in the season of Lent or whatever season you are in. May God's blessings be with you until Easter morning, when we will gather around the world, separately but somehow together, and say alle----jah again for the first time since Ash Wednesday.