Lessons from Elite Leaders: Faith Postures in the Workplace, Part 4 of 8
Blog / Produced by The High Calling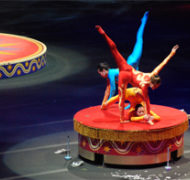 Part 1 | Part 2 | Part 3 | Part 4
Part 5 | Part 6 | Part 7 | Part 8
Whether a leader takes a pragmatic, heroic, circumspect, or brazen approach in the workplace, there are risks and benefits to be considered. Laity Leadership Senior Fellow D. Michael Lindsay identifies these four faith postures that leaders take at work and says none of them is necessarily better than the others, but each presents different challenges and opportunities for leaders who seek to be faithful in their calling.
Ninety-three percent of the leaders that Lindsay interviewed for his new PLATINUM Study said their coworkers know about their faith, but many of them take a pragmatic approach to expressing it in hostile work environments. In "Accounting by Faith," a 2010 article published in the Journal of the American Academy of Religion, Lindsay and co-author Bradley Smith wrote, "Pragmatic elites prefer a strategy of incremental witness to all-or-nothing conversion campaigns."
Dean Batali, co-executive producer of That '70s Show, is one such leader. He told Lindsay that he didn't necessarily think compromise at work was negative, but he also expressed "deep concern" about the content of the shows he'd produced and written for: "It doesn't bother me; it tortures me," Batali said. "The shows I've worked for have been damaging to our culture." While he has tried to use his influence to shape the work, communicating a Christian point of view is not his primary goal. Lindsay and Smith concluded, "Implicit in this approach is a pragmatic sensibility with respect to distinguishing between the ideal circumstance (presumed to be overt witnessing in evangelical circles) and what can actually be accomplished in a religiously diverse workplace."
Heroic leaders, on the other hand, view the workplace as a spiritual battlefield. These leaders viewed firings and resignations as consequences of having boldly lived out their faith at work. Sherron Watkins, former Vice President of Corporate Development at Enron Corporation is one example. Watkins told Lindsay that her faith fueled her decision to first confront Enron CEO Kenneth Lay about the discrepancies she saw in the company's books and then to bear public witness to those discrepancies.
She said specific Bible passages compelled her to act without regard to the consequences. "Matthew 6 [suggests] that if you were really worried about things, then you didn't have faith that God was going to be watching out, looking out [for you]. All things work to the good of those that love the Lord. So, in many ways, my being able to go to Ken Lay was the fact that I wasn't worried that I was going to lose my job."
Circumspect leaders view the workplace as being far more amenable to religion than heroic leaders do. John Aden, Senior Vice President of International Operations at Walmart and former president of Mac Tools, is one such leader. Aden introduced values like respect and integrity into the corporate culture at Mac Tools after having a spiritual awakening. He saw this as a subtle, yet significant way to bear witness to his faith without alienating coworkers. Likewise, Peter Ochs, a residential real estate developer, said, "We're a values-based company. . . . The values, while biblically based, aren't avowedly biblical because I never wanted this company to be unattractive to a secular individual who wanted to do business with us."
Finally, Lindsay and Smith explained that brazen leaders tend to work in industries that are more receptive to public displays of faith. Professional athletes, for example, told him that they enjoy considerable freedom. NFL quarterback Kurt Warner said that when he was asked by reporters about his winning performance in Super Bowl XXXIV, he spontaneously responded, "Well, first things first, I've got to thank my Lord and Savior up above—thank you, Jesus." Warner didn't worry that his public testimony would negatively impact his career. He said, "To me, it's just about loving Jesus . . . when you love something, all you want to do is talk about it . . . and that's just how I feel about my faith."
Lindsay has become convinced theologically that there is room for a diversity of approaches. He says, "It's possible for me to do something that I am comfortable with that others would be uncomfortable with, either because it's conceding too much moral ground or because it's not enough. It's natural for us to assume that the ways we come to a decision about what's appropriate in terms of bearing witness should be the norm for everyone, when in fact I found that there's real variation here and for good reason."
Citing John 1:14, in which Jesus is described as being full of grace and truth, he explains, "John was such a careful writer that I think the order of those two words makes a difference. We encounter Jesus as grace before we encounter the truth. … Christians who seek to bear witness really need to be known as being grace-giving contributors to their workplace or their community. And then in the process of our work, we earn the opportunity to bear witness to the truth."
Whether our vocational context calls for a pragmatic, heroic, circumspect, or brazen approach, the posture that honors God best is one that is infused with both grace and truth.
D. Michael Lindsay is a Senior Fellow at Laity Leadership Institute. He is Assistant Professor of SociologyatRiceUniversityand Director of the Program for the Study of Leadership. He is also author of the Pulitzer Prize nominated Faith in the Halls of Power: How Evangelicals Joined the American Elite
. For this eight part series of lessons from elite leaders, The High Calling talked to Lindsay about his new PLATINUM Study, for which he has conducted 500 interviews. Image by Peter Dutton. Used with permission via Flickr.