Light Matters: Reflections on Aperture
Blog / Produced by The High Calling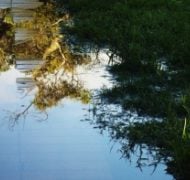 It was a breezy autumn evening along the banks of Canal Du Midi in the South of France. Our boat was moored against the bank and we had set out on foot to explore the nearby town with its moat and walled city. We chose a terraced restaurant where the light was gentle. I started asking him about his photography, his work, his equipment and, in particular, his favourite camera setting. His answer surprised me. I assumed that a photographer of his calibre would be permanently in Manual mode. It is, in fact, mostly in Aperture mode.

He explained to me that, in his opinion, all other functionality was secondary to Aperture. I asked why. He stated that because the aperture controls light, it is the most important element. Photography is the art of "capturing light" after all. Other functions control what happens with the light, but the aperture is where light actually enters the camera.
Seeing the light
The light around us is multi-dimensional. In order to get into its depths we need to look at it differently. We need to filter it, bend it, turn it upside down, and allow it to reflect off of objects. We need to grapple with it for it to make sense.
For that reason, this PhotoPlay prompt was a multi-layered one, addressing:
Aperture, to allow us to see the effects of light on our surroundings.
Angles, to allow us to look in unique places for light.
Reflections, to allow light to teach us something. We can "manipulate" light but it always surprises us with a new dimension that has not been discovered before.
Post photo by Sarah. Used with permission. Post written by Claire Burge.