Living Near E
Blog / Produced by The High Calling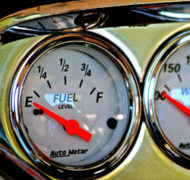 I started pumping gas for my dad's rusty, side-step Ford long before middle school. I only left one fuel cap behind; considering how often we stopped, one is a commendable number.

Driving and the question "How much gas do we have?" were synonymous in my childhood. Dad knew exactly how far below "E" the pin could actually go, yet my stress about wondering if we'd make the next destination or whether pocket change could hold us over for the next few days remains a vivid association with going places.

So I fill my tank. I have for years. I'd like to think that this small reaction clears me from unfavorable pieces of the past—like neglect—but it doesn't. Exploring the roots of such a simple act has only led me to realize that I drive near "E" too.

Consider this: I've blogged for several years. Except for occasional bursts of activity, the blog has never lived up to its potential. I work at it for a month here and a week there, always until the affirmation arrives, and then I move on to other interests. The small amount of effort I exert gives me the fix I'm looking for. In other words, having an excellent blog requires a lot of work for what I perceive is a similar payoff to what I already receive from keeping an average blog.
I didn't intend to work in this way, but there it is: Small hits do the trick.

Again, I see this with exercise. I do just enough to stave off old age, but the reality is that I'm running on fumes. I will wake up one day and realize it is too late to experience the youthfulness yet to be experienced at the cusp of 40. I'm like my grandfather who gambled away a fortune in $4 increments at the horse track.

By most accounts, I look healthy and feel pretty good. I work hard and accomplish goals. I have a voice and make a difference in my communities. But I'm drawn to what is minor enough to manage. I never actually run out of gas; I simply live near "E."

Paul asks, "Do you not know that in a race all the runners run, but only one gets the prize? Run in such a way as to get the prize" (1 Corinthians 9:24). I love this emotionally inspiring call. I just haven't converted it. Anywhere.

It's too early in the discovery process to know if I'm being extra hard on myself. The possibility exists. The possibility also exists for me to learn from what I didn't know existed, and then move forward. I'm only almost 40, after all. I have time to sort out what needs to stay, like filling my gas tank; and what needs to go, like filling my gas tank as a reaction.

I have a job to do. And most of me is grateful to be employed by it.

Questions to consider:
Do you ever run on "E" with no intention of improving?

Both coasting and pushing ahead are cultural acts. Which do you think has more impact?

What area of your life has a full tank? Is it related to faith, work, family, other?
Image by Darlene. Used with permission. Sourced via Flickr. Post written by Sam Van Eman.