Lou Gehrig
Audio / Produced by The High Calling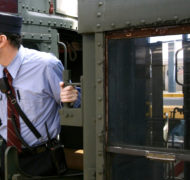 Transcript
On July the fourth, 1939, Lou Gehrig stood before 60,000 fans in Yankee Stadium to bid farewell to the game he loved. Two years later, he died of the disease that now bears his name.
Every baseball fan knows of this near-mythical figure. He played a record two thousand, one hundred-thirty consecutive games.
Lou said, "Today, I consider myself the luckiest man on the face of the earth." He thanked everyone—from his teammates and his opponents, to the groundskeepers, his mother-in-law, and most of all, his wife. Then he left the field.
This is Howard Butt, Jr., of Laity Lodge. Lou Gehrig faced a terrible illness by counting his blessings. His thankful heart raises the bar for all of us—in the high calling of our daily work.
But godliness with contentment is great gain. For we brought nothing into the world, and we can take nothing out of it.