Making a Bad Situation Worse
Daily Reflection / Produced by The High Calling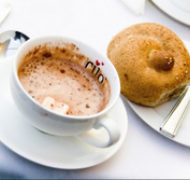 Uriah said to David, "The ark and Israel and Judah are staying in tents, and my master Joab and my lord's men are camped in the open fields. How could I go to my house to eat and drink and lie with my wife? As surely as you live, I will not do such a thing!"
2 Samuel 11:11
David chose to trust in his own power and mistrust God's power. That choice endangered his very soul. He needed to be rescued from himself. But this mess was of his own making, and he resisted calling on the promise of Psalm 23. Have you been there? Do you know what that's like?
To enact his cover-up, David recalled Bathsheba's husband, the great warrior Uriah, off the front line of battle. Upon returning to the court of the king, David greeted him and said, "Go back to your home and wash your feet there." This phrase is a Hebrew euphemism inferring "to have sexual relations." It was made clear through Bathsheba's purification bath that she was not pregnant before David "took her" (1 Sam. 11:2). Her pregnancy was David's responsibility. David wanted Uriah and the public to think that the baby was Uriah's.
The warrior remembered that King David had instructed the soldiers to abstain from sexual relations during seasons of combat. So instead he slept in the servants' quarters and did not go to his home. The next night King David, trying to cover up further, got Uriah drunk. Again Uriah refused to go into his own bedroom to be with his own wife. He was acting with honor, a Hittite more faithful than Israel's King. David feared that soon all the kingdom would be gossiping about his sins. He then wrote a decree which Uriah delivered to General Joab. Ironically, the secret orders delivered by Uriah carried his death sentence.
David's cover-up only made matters worse. Satan (which means "the deceiver") works through temptation's distorted messages. Sin harms. Habitual sin destroys. Once sin has its hooks in us, it won't let go voluntarily. We must yield to God. Then our misdirected life gets redirected in God's ways. Sin had its way with David, who then had his way with Bathsheba; both of them were left in the dilemma of what to do next. David had a choice to confess or to cover up by committing additional sins.
When we try to cover up sin in our own power, we fool ourselves. Servants were involved in delivering David's messages. People observed his behavior. They watched their king act in ways unbecoming of a king, and people began to talk. The rumors spread through all twelve tribes of Israel.
QUESTIONS FOR FURTHER REFLECTION: When are you tempted to mistrust God's power by trusting in your own power apart from his? Confess or cover-up, what is your preference? What are people in your home, workplace, or community seeing from your behavior?
PRAYER: Dear God, we live in a hard world. Much of what goes on around us or in my own heart is directly opposed to you. I am tempted to deal with this contradiction by hardening my own heart. Please help me to lean into your strength so that I can be strong without being calloused.

A Note from Mark Roberts: This week's reflections have been written by my friend and fellow pastor, Dr. Leslie Hollon, Senior Pastor of Trinity Baptist Church in San Antonio, Texas. Leslie (known also by the nickname Les) is a noted preacher, pastor, professor, and author. He is a gifted biblical teacher who connects the deep truths of Scripture to the realities of daily life. Every time I hear Leslie preach, I am encouraged to consider in new ways how the Word of God speaks to me. I know you will find Leslie's reflections on temptation to be challenging and encouraging. Amen.